Twelth Century Nun Inspires Herb Garden at Spring Flower Show
Last Saturday  I spent an afternoon at the Rhode Island Spring Flower and Garden Show in Providence, RI.
The temperature for the day reached 50 which provided a sense of warmth in the air, an ideal time to drive down to visit the Show.
The theme of the Show centered on gardens with classic cars. An exhibit of  a medicinal garden called "The Healing Garden"  took second place. It was my favorite exhibit.
The exhibit featured Benedictine nun Hildegard von Bingen (1098-1179) who encouraged the well-being of soul, body, and mind, with herbs from the garden providing for health needs.  She recently became beatified, the first step to sainthood in the Catholic Church.
A wagon filled with straw stood at the front of the exhibit. Nearby several herbs including valerian and rosemary grew in the small garden area.  Hildegard wrote about the two hundred herbs she used in her medicinal work.  She helped both members of the Order and people from the community as well.  She wrote several books on eating healthy and using natural healing methods. In fact, there is renewed interest in her legacy, especially in Germany.
The back wall of the exhibit showed a five by eighteen foot mural of the cloister of the Benedictine nuns of that century as they worked in the fields of herbs [below].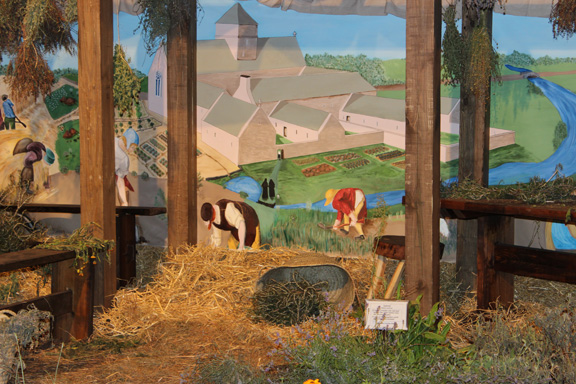 What impressed me the most however was that the http://americangardening.net/nordstrom-dating-policy/ sponsored the exhibit.  Senior gardener and designer J. Peter Morgan said, "The resurgence in popularity of holistic medicine prompted us to exhibit the many healing plants within the College of Pharmacy's Youngken Garden."
If there is any place for emphazising herbs as medicine, the Pharmacy program at the University ought to be front and center in that effort.  So it is with URI.
The College of Pharmacy chose to exhibit its healing garden with the shining example of  the Benedictine nun Hildegard von Bingen.