Finding Summer Plants for a Shady Balcony
It is the start of summer where we gardeners face our summer garden tasks.
Well, since I now live in a condominium, my 1 1/2 acre garden has shrunk to about six containers on the balcony.
The major issue however is that this area has little sun till 4 p.m. in the afternoon, and that lasts for only a couple of hours.
Thus, I am now in search of shade-loving plant varieties. They may or may not include a flower that blooms.
Most of the plants I have found do however have beautiful leaves.
The Plants I found
The coleus is a natural for this area.
My favorite coleus series is called 'Main Street.' There are several choices in this series.
A new varieity for me is called Coleus Main Street 'Chartres Street'. It is a gold/green color, almost yellow. It has no border, and so the color continues to the edges of the leaf. A beautiful plant.
Proven Winners has come out with series called Proven Accents, which are plants that add a bit of color or structure and are therefore 'accents'. One I found is called Hippo 'Polka Dot. [below]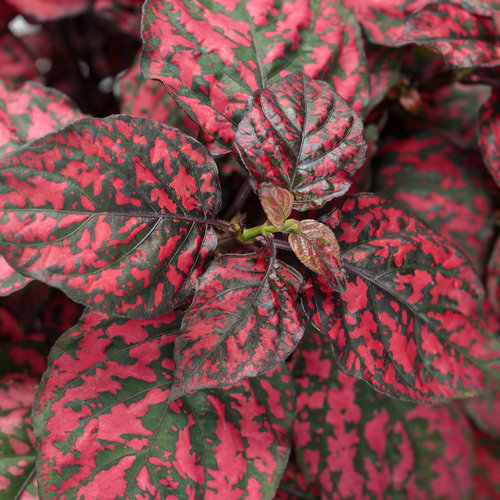 Of course, I would not be without my wonderful shade-loving caladium. There are many varieties in colors of white, green, and red. But it is the edging of the plant that draws you in.
I have a variety of caladium called 'Pink Splash.' It has beautiful large leaves, spotted with red and green. Be patient. Remember that the leaves don't appear til July. I planted the tuber a few weeks ago.
The caladium grows in a cement container with oxalis tetraphylla 'Iron Cross.' Just a wonderful combination.
Other plants I found include a beautful pink and white Impatiens Patch work and the variety is called 'Pink Shades.'
It is from White Flower Farm.
In their catalog I also found another coleus called 'Vulcan'. The colors are stunning. The leaves are purple with gold edging. Beautiful!
The search for these plants was fun, but now we get to see them for the summer in all their glory.
They can all survive in shade, and even prosper at times with certain conditions, like avoiding too much water for them.
I have found that in shade the right plants can live with a bit less water.
Only time will tell how these plants will thrive.