The Popular Flowers of 17th century France Included the Anemone
The anemone numbered among France's King Louis XIV's list of favorite flowers.
At one time this flower was called the "Grecian Windflower."
That popular name speaks to its origin in the mediterranean area of Greece and Asia Minor.
In the early 1600s the anemone made its way to France where it became an important addition to the French flower garden.
Flowers Still Popular
The collection of flowers in the garden that the French cultivated in the seventeenth century included many varieties still popular today.
The list included helleborus, gladiolus, asters, iris, lilies, narcissi, heliotropes, tulips, auriculas, amaranths, violas, cyclamen, peonies, and ranunculi.
But it was the anemone that became a French favorite.
Elizabeth Hyde in her book Cultivated Power: Flowers, Culture and Politics in the Reign of Louis XIV devotes many pages to the importance of the anemone for the seventeenth century French garden.
Hyde writes, "The anemone brought a brilliant variety of color to the parterre…
"Pierre Morin, a seventeenth century florist and writer, listed twenty-seven different varieties [of anemone] in his collection."
She says, "The flowers designated as 'florists' flowers' generally included tulips, anemones, ranunculi, carnations, auriculas, and, by the eighteenth century, hyacinths."
And later, "Other species could be and were included in flower gardens, but the 'florists' flowers' were those deemed most valuable."
But, as is the case with all fashion, the flower gardens of France, cultivated by men for decades, began to loose their popularity by the end of the century.
And so the quest for the latest anemone ended.
Hyde says, "By the late eighteenth century interest in anemones began to wane."
Nineteenth century
In the late nineteenth century renewed interest in the anemone appeared.
James Vick (1818-1882), seed company owner from Rochester, New York, was quite familiar with the anemone.
He highlighted this 'Japan' anemone in his popular garden magazine in 1880. [below]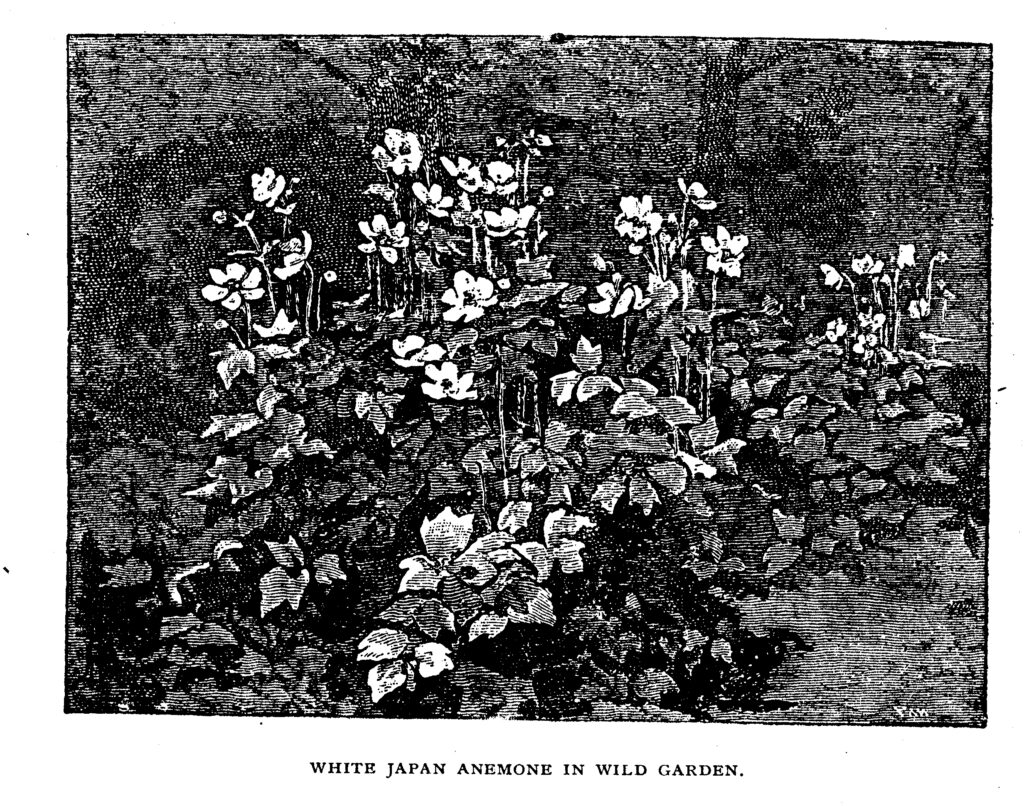 Vick's magazine also included an article about the anemone in 1880. It said this about the anemone: "There are over sixty true species, and the varieties run into hundreds."
Here is a painting of the anemone by Renoir in 1909 when it still retained a bit of popularity in France. [below]
Today
To this day the anemone continues to be a popular garden flower.
The tender Anemone coronaria makes a wonderful ground cover in the spring.
For the fall here in the Northeast we plant Anemone hupehensis var. japonica. It grows to a height of two feet and has a beautiful flower to brighten the autumn garden until the frost.