Late Nineteenth Century America Witnessed Content Marketing from Seed Companies
Recently I came across an article by Callum Borchers in the Boston Globe called "Consider the Source: Content Marketing is blurring the line between advertising and news, and Boston's no different."
Today you see the term 'content marketing' everywhere. No longer simply advertising but now content marketing has become the way to motivate consumers to purchase.
Content marketing is not really a new concept. It has been an integral part of public relations for decades. Borchers writes, "Companies have long produced informational reports and surveys that they believe people will want, not ignore like so many advertisements."
Take for example the American garden industry in the late nineteenth century when cheap printing along with inexpensive mail delivery made it possible to send out seed and nursery catalogs in the millions.
Printed catalogs however were not the company's only link, or content, sent to gardeners during that time.
The John Lewis Childs Seed Company in Floral Park, New York sent out a magazine called The Mayflower to its customers. The company owner Mr. Childs (1856-1921) filled it with garden articles that would be of interest to his customers.
Thus he provided an early example of content marketing.
The front cover of his magazine from 1892 illustrates the time and money Childs invested in this publication. [below]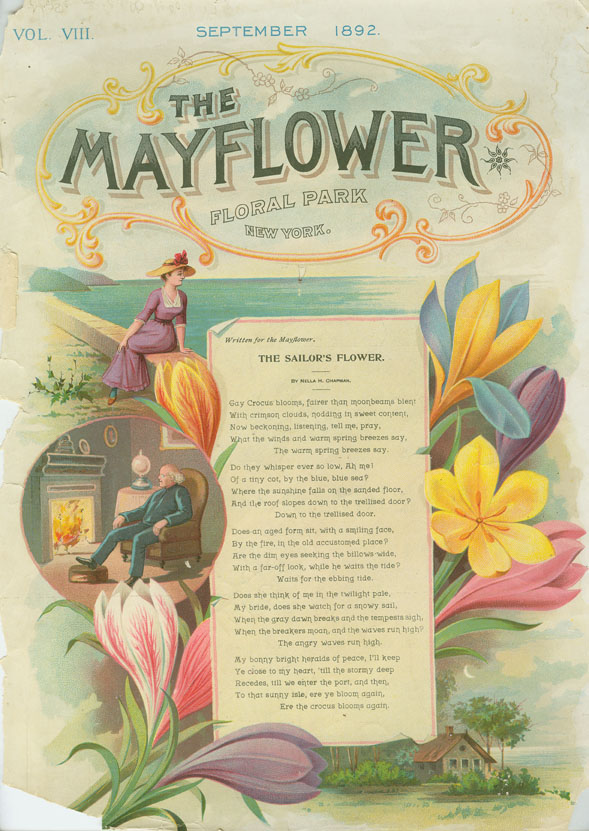 Childs printed 200,000 copies of each issue of this monthly.  Articles in a typical issue included titles like "Rocky Mountain Flowers," "Narcissus and Daffodil," and "Blue Hydrangeas" – all articles that would appeal to a gardener.  Childs enlisted prominent horticulturists to write the articles.
Thus his monthly publication provided content that would keep his customers interested in his company's product, seeds.  When the biannual seed catalog arrived, the customer remembered that Childs had already shown interest in him or her by sending out his regular magazine.
Borchers writes, "Content cannot look like an advertisement or a press release. Many corporate-produced articles do not mention a product or even the name of the company that commissioned them."
Although content marketing will continue to play a key role for companies, it has a long history.