Novelist Edith Wharton Found Inner Strength in Gardening
Gardening inspires us in many ways. That's why we love it.
Novelist Edith Wharton (1862-1937) not only gardened but designed her own landscape at her house called The Mount in Lenox, Massachusetts in the Berkshires. You can still see the garden, designed in the formal Italian design popular in the early twentieth century, since over the last few years it has been beautifully restored.
Wharton found a sense of well-being in gardening.
The Mount sponsored a seminar on Wharton and her gardening in mid-May 2006. The lectures were later combined into a book called Edith Wharton and the American Garden. On my visit to The Mount earlier this summer I bought a copy from the gift shop.
The book includes an essay called "Edith Wharton's Literary Garden" by landscape designer Betsy Anderson, one of the speakers at the conference. She writes  "In her literature Wharton never associates stability with another person: stability must always be found within oneself, and interaction with nature through gardening is a means of cultivating inner strength as well as outer beauty."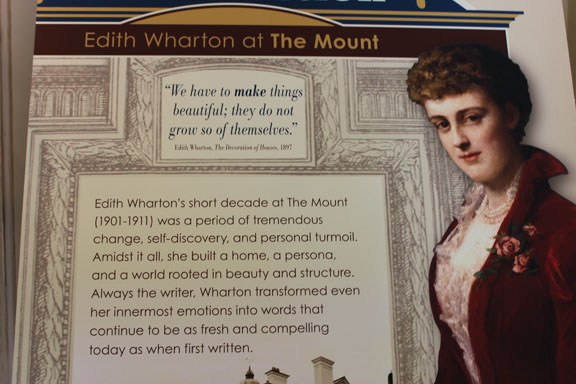 The poster [above] from the lobby on the lower level of the Mount mentions that Wharton's ten years at The Mount "was a period of tremendous change, self-discovery, and personal turmoil."
She threw herself into gardening and saw it as her opportunity for personal growth and well-being, as Anderson suggests.
What do you get out of gardening? What does the garden do for you?