Love of Flowers Promotes Health and Well-Being
Love of flowers promotes health and well-being.
It is spring and the time of year that gardening takes off in full force.
One thing we need to do is to make sure we plant flowers so that we have color in the garden. Who wants to look at just a sea of green all summer? Not me.
We need flowers to survive.
At least that is what Stephen Buchmann writes in his book The Reason for Flowers: Their History, Culture, Biology, and How They Change Our Lives.
He says, "The belief that plants are beneficial for medical patients is at least one thousand years old. In Europe, during the Middle Ages, monks in monasteries built beautiful gardens to see and comfort the ill."
Though I think that we have known of the medicinal value of plants much longer than one thousand years, he makes a point about how important plants are for our health and well-being.
Buchmann writes, "Plants are often the primary gifts given to hospital patients, and for good reasons.
"Flowers, whether in pots or flower beds, have taken on a new cultural and evolutionary role as our companion plants.
"Perhaps it is the flowers who have led us along garden paths, using their seductive petaled beauty, since they were first intentionally grown, tended, and admired in ancient gardens."
Something about a flower, like this dahlia, brings a smile and a bit of joy to the human heart. [below]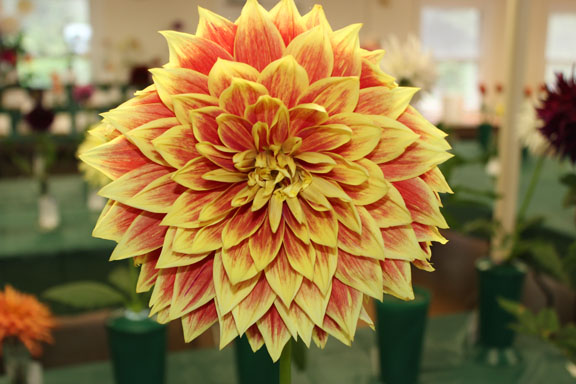 We cultivate flowers because we need them. They are not just pretty. In some way they provide us with hope, health, and happiness.