Containers Dominated Boston Flower Show
Containers dominated Boston Flower Show –
Last week I took the Silver line train into the Seaport section of Boston for the annual Boston Flower and Garden Show.
The weekday that I attended a moderate amount of visitors filled the Seaport Center. It was easy to navigate the floor.
What took me by surprise was the emphasis on container gardening.
It was captured in the exhibit by Miscovsky Landscaping called "Potlandia." [below]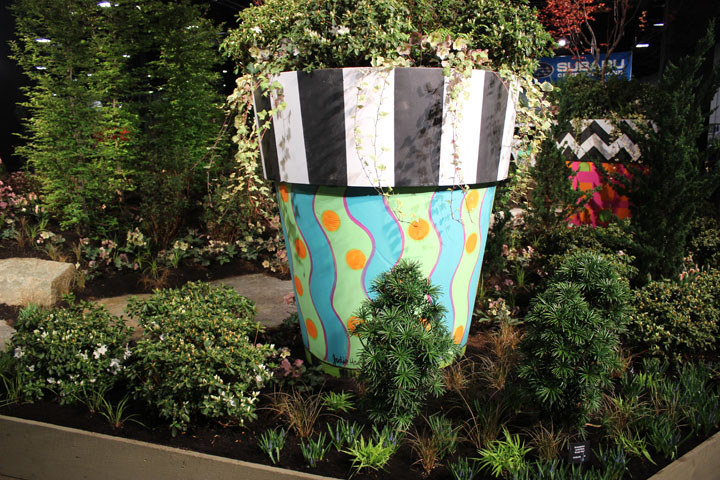 The exhibit included three giant planters, each probably ten feet tall.
These pots made of terra-coat were painted in bring, attractive colors.
The plantings in each of them were pretty much the same. The center of the pot included a Japanese maple along with shrubs and perennials. Remember these containers were quite large.
The exhibit won a prize of $2000 for its outstanding forced plant material, including fruit trees.
You could see many bulbs throughout the design.
I took this photo to provide a perspective on the size of the containers. [below]
There is no question that the size of the containers made a bold statement about the importance of the container in the landscape.
I got that.
So as I walked around the Show every container after that seemed to be important.
The exhibit by http://americangardening.net/new-dating-site-for-singles/ had wrought iron planters with wonderful brightly colored plants.
A series of window boxes even caught my eye. Many great plants filled each of them.