A Spring Flower Show that Came Back
In mid March of 2020 I was at the Boston Flower and Garden Show.
I had volunteered for the New England Hosta Society exhibit. I had to answer quretions of visitors who showed interest in the wonderful plant we all love, the hosta.
That was a Friday and about noon that day we got the word that the Flower Show was closing down because of the threat of Covid.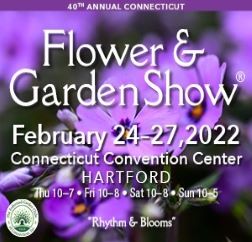 There were no spring garden shows in 2021.
The Connecricut Flower and Garden Show, held this past weekend, is 2022's only major flower and garden show in New England.
The Show's theme was "Rhythm and Blooms."
I attended the CT Show on Friday, after driving for three hours in a snow storm from Boston. I drove 40 miles an hour on the Massachusetts Turnpike, Route 80.
The Show's attendance was low, probably because of the snow.
But plenty of exhibitors were there to show their seeds, bulbs, plants, garden tools and accessories, magazines, etc.
Great fun!!
There were sixteen designed lanscapes. Each more glorious than the other.
Hats off to Kristie Gonsalves and her team foir putting the Show together this year.
By the way, this was the 40th Show her family had produced,
Congratulations!