Wisteria Vine at John Adams Home
This is the time of the year the purple flowers of the wisteria vine put on their show.
America's most famous wisteria has to be the one that climbs thirty feet up the side of President John Adams' house, part of the Adams National Historic Site, in Quincy, Mass. Now that it is in bloom it attracts  both history lovers and gardeners.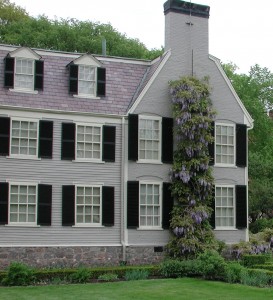 The vine  came to England from China in 1816.
As the story goes, according to a book by Wilhelmina Harris, long-time superintendent of the Site, First Lady Abigail Adams planted the vine.  Abigail died in 1818, and Donald Wyman, noted horticulturalist from Boston's Arnold Arboretum, wrote that the vine, which originates in China, was introduced into America in 1816.  So it is quite possible Abigail planted it.
The wisteria vine grows slowly but once it is rooted pushes aggressively along any surface it can climb.  You need a trellis or arbor to support it.    Bob MacKenzie, the head gardener at the Adams house, says,  "We have to keep trimming it so that it does not take over the house."
When England sent plant explorers around the world, beginning in the eighteenth century, trees and shrubs as well as this wisteria were part of the find.  English gardeners treasured exotic plants like this wisteria called Wisteria sinensis.  In the nineteenth century it was common for Americans to import English exotic plants.
According to Flowers: A Guide for Your Garden by Ippolitio Pizzetti and Henry Cocker, two East India  Company captains transported the first plants of Wisteria sinensis from China in May of 1816.
Shortly after that the Wisteria sinensis must have made its way from England to Quincy and  the Adams home.
In the nineteenth century the English gave America exotic plants as well as a garden style.  As in the case of the wisteria, the plants eventually became part of our landscape pallette.