As gardeners we know that sometimes plants just die on us.  Did you ever wonder why?
I remember three plants in particular where that happened to me.
A yellow shrub called Kerria japonica 'picta' sat in the center of my yellow garden for fifteen years. Each spring tiny yellow flowers appeared. Than one spring as other plants were starting to put on their show of color this shrub just died.
Over ten years ago I bought a small black pastic container of Zebra grass, Miscanthus sinensis 'Zebrinus', from Hampton, NH's Fuller Gardens' plant sale. Last fall I decided to divide it because it was overtaking other plants.  I left sections of it in the same spot and just cut away some of the plant here and there to allow more space. This year not one sign of this grass appeared.  It was gone.
A short Viburnum called 'Bailey compact' [below] also failed in my garden after many years. One spring all the branches were simply dried up and I had to dig it up and replace the plant.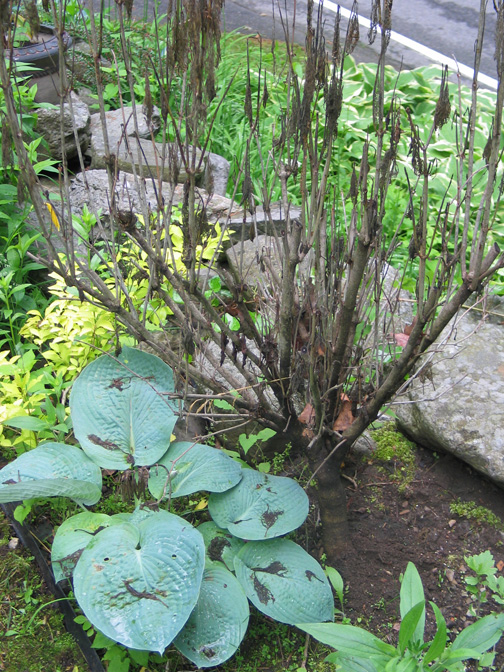 Why does a plant just die?
Rochester plantsman George H. Ellwanger wrote his book The Garden's Story in 1887. In the book he said, "Apart from climatic influences the failure of certain plants is often puzzling."
Ellwanger wondered, just like you and me, how plants sometimes just die.