Vintage Lawn Mower Ad Shows Mother and Daughter Admiring the Perfect Lawn
As I read nineteenth century American seed and nursery catalogs in research for my book America's Romance with the English Garden, I often saw an advertisement for a lawn mower included in the catalog.
The person who was using the lawn mower in the illustration was usually a man.
This week on Pinterest I found a nineteenth century trade card that depicts a mother and daughter in a lawnmower ad for the Buckeye Mower [below].
In looking at this imagery it is clear that these two upper middle-class women are not mowing the lawn, but simply admiring how beautiful the lawn looks. It was probably cut by a gardener. The Buckeye Company from Worcester, Mass. wanted the consumer to be proud of the well-trimmed lawn that its mower would make possible.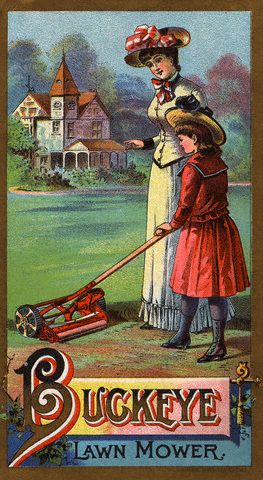 I doubt that the young girl who seems to be pushing the lawn mower here is actually cutting the grass, especially dressed as she is in her Sunday finest. She is probably admiring the mower for it's ease of use.
The mother on the other hand might be saying "Look at the new mower that keeps our lawn trimmed so perfectly."   Her family considered itself quite progressive because of the latest technology used to keep the lawn cut at the desirable height.
Pamela Walker Laird wrote in her book Advertising Progress: American Business and the Rise of Consumer Marketing: "When [late nineteenth century] manufacturers created their own advertisements, they boasted of their roles in progress through advertisng messages that glorified industry and technology as the means to new abundance and cultural advancement."
The ad also affirmed the role of the lawn, essential for the home landscape of the middle class.