Victorians Flocked to Summer Resorts
Victorians flocked to summer resorts.
In the late nineteenth century hotels along the water or in the mountains became a popular escape in the summer.
Thomas Schlereth writes in his book Victorian America: Transformations in Everyday Life 1876-1915,  "Victorian resort hotels featured grand verandas, places for viewing, and being viewed"
The resorts became famous sometimes for their gardens and landscape as well.
The Pabst Whitefish Bay Resort near Milwaukee, Wisconsin was one such resort.
Captain Fred Pabst, owner of the world's largest brewery at that time, built the resort in 1889 on the shores of Lake Michigan.
The pavilion was a wooden structure "built in the resort mode of the day." The Resort became "famous for its planked whitefish dinners and fine music."
Words from the dedication of the new resort with its park-like atmosphere claimed that "the north shore area of Milwaukee is indeed the original garden of Eden."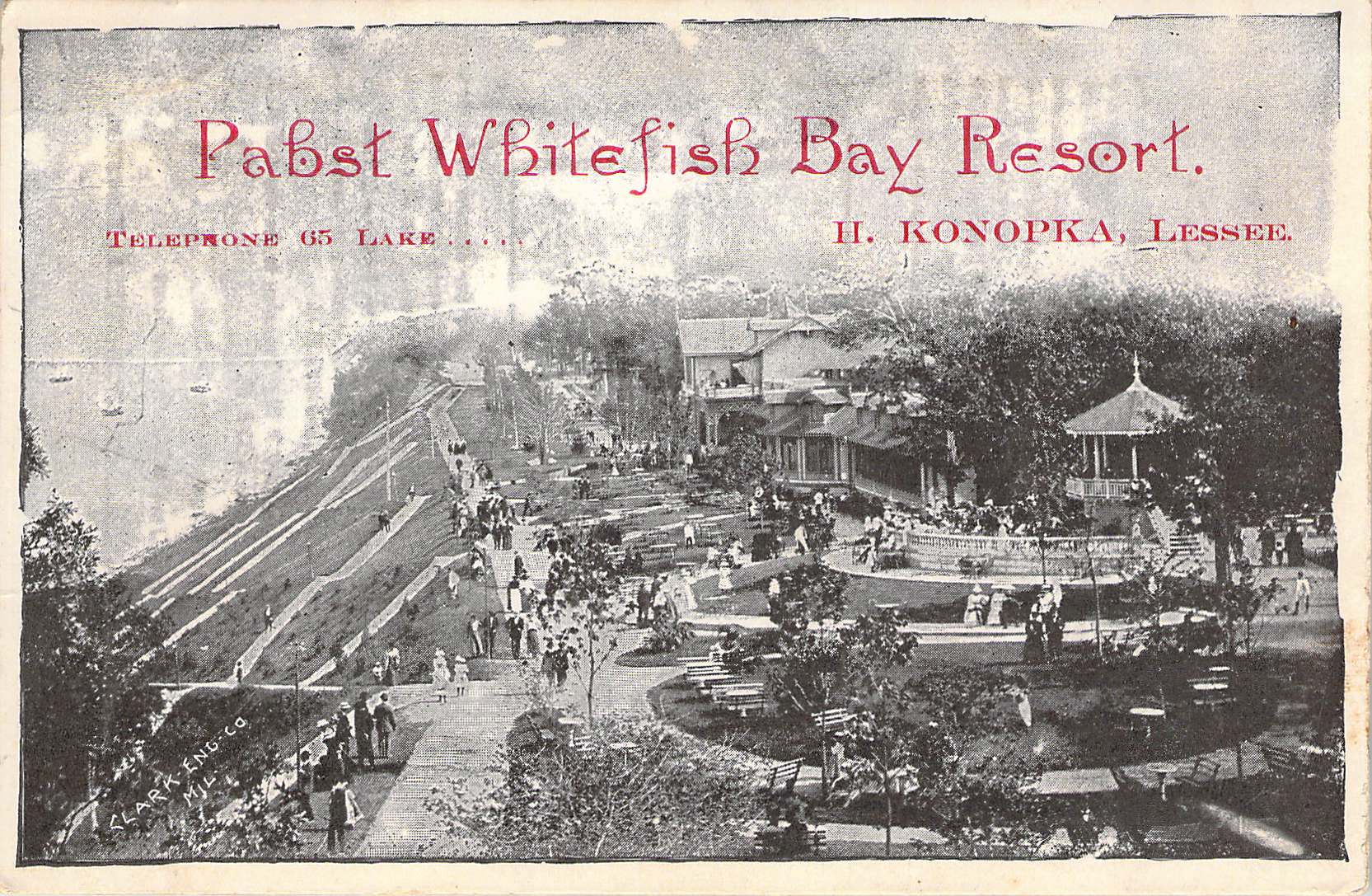 Harry H. Anderson and Frederick I. Olson wrote in http://americangardening.net/dating-tips-after-50/ that "Whitefish Bay was incorporated as a village in 1892.
"Its growth was enormously benefited by Captain Fred Pabst's Whitefish Bay resort, which flourished from 1889 to 1914 by attracting Milwaukeeans escaping from the bustling city."
The landscape of the Pabst resort which overlooked the bay of Lake Michigan included lawns, special flower beds, trees, and shrubs to make the atmosphere comfortable for a visitor.
Spacious grounds provided the visitors who flocked to the resort especially on Sunday ample room for a stroll along the lake shore.
There were ample seating areas spread throughout the property.
The resort featured both a hotel, a large pavilion, and many tables for eating and drinking outside.
Parks and resorts owned by breweries certainly also helped the business.
The Milwaukee Sentinel wrote in 1887, "The advantage of owning parks is considerable to a brewing company, as then no other beer but its own is brought to tap on the premises."
While enjoying a Pabst beer, the Victorians who visited the Pabst Whitefish Bay resort, could also relish a wonderful landscape.