Victorian Conservatories Appeared Everywhere
The Victorian conservatory became an extension of the house.
Such greenhouses served an important role in the life and work of the nineteenth century gardener.
As glass became cheaper, the middle class could afford to have a conservatory or greenhouse.
Nicolette Scourse writes in her book The Victorians and their Flowers,"In 1833 new methods of glass manufacture completely changed greenhouse design and efficiency."
English horticulturist Joseph Paxton, architect of the Crystal Palace in London for the Great Exhibition of 1851, had first built the greenhouse for his employer, the Duke of Devonshire at Chatsworth.
Paxton, the most famous gardener in England at that time, became as well the country's expert on such structures of glass.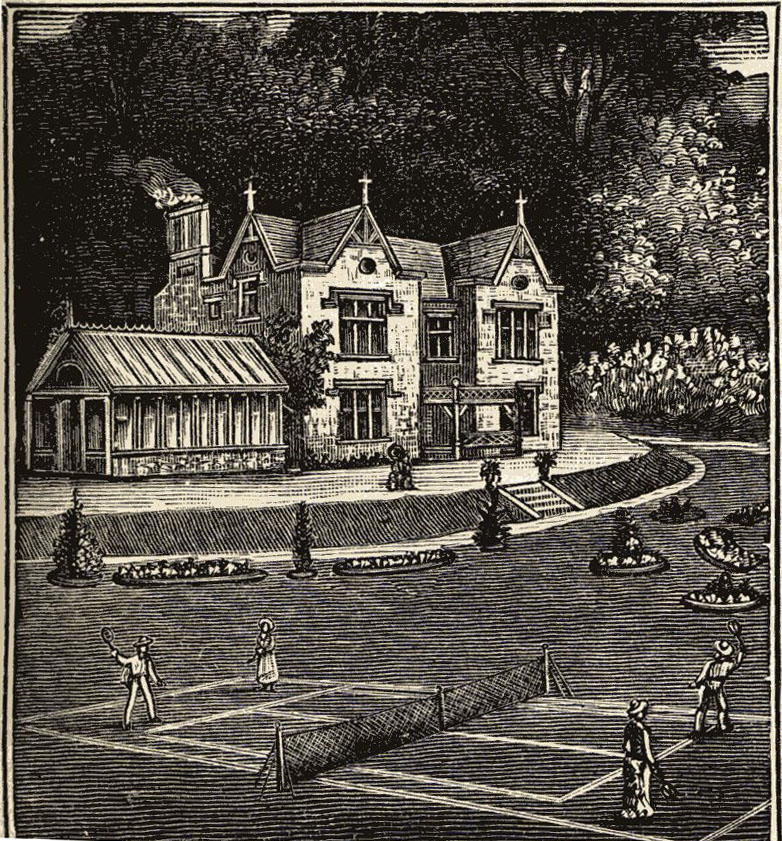 In 1892 the Parker and Wood Seed Company in Boston issued a seed catalog with a black and white drawing of a house that included two men and two women playing badminton on the front lawn. (above)
Notice the large conservatory attached to the house at the left. The conservatory provided a setting for tropical plants that the owner could cultivate and perhaps during the warm months position outdoors so the plant could enjoy the season's warmth and rain.
Such conservatories served American gardeners well during the nineteenth century, particularly when the owners were wealthy or upper middle class.
The difference between the greenhouse and the conservatory is that in the former you plant trees in containers to take outside in the better weather. In the conservatory, according to Bernard McMahon's American Gardener (1806)  "trees or plants taken out of their tubs or pots are regularly planted in the same manner as hardy plants in the open air." In the conservatory you planted the trees in one of the beds provided in its design.

The Victorian conservatory, attached to the house, appeared both in England and America, assuring hours of gardening pleasure to its owner.