US Became the First Country to Launch Mass Production of Goods in late 1800s
The seed and nursery catalog by the end of the nineteenth century had become a small book, not only because of the number of color illustrations that appeared within its pages, but also because the garden catalog had so many products to sell.
The seed and nursery industries were caught up in the mass production process that was sweeping the country at that time.
The American gardener by 1900 became part of the country's new economy devoted to mass production.
In his book Land of Desire: Merchants, Power, and the Rise of a New American Culture historian William Leach said, "The United States was the first country in the world to have an economy devoted to mass production, and it was the first to create the mass consumer institutions and the mass consumer enticements that rose up in tandem to market and sell the mass-produced goods."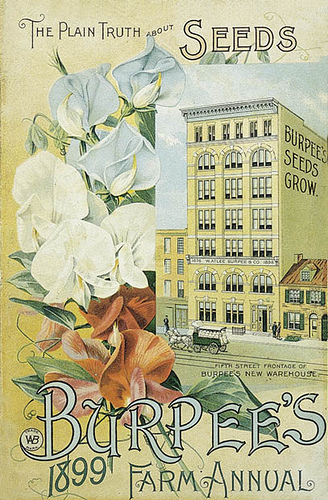 So it was no surprise that the Philadelphia seedsman W. Atlee Burpee (1858-1915) believed in the value of advertising for every modern business, including his own.
In the Saturday Evening Post magazine of February 4, 1905, an ad from the Burpee Seed Company said, "If you garden, you want the best and we shall be pleased to send you Burpee's Farm Annual for 1905, an elegant book of 178 pages which tells the plain truth, with hundreds of illustrations, beautful colored plates, and describes Superb Novelties of unusal merit."
Burpee, like other garden catalogs, used the modern form of commercial enticements to move and sell his goods.