Reading Plants Like Late Nineteenth Century Climbing Rose
Reading plants like late nineteenth century climbing rose.
I am still filled with awe at the life and career of the nineteenth century plant hunter Alexander Von Humboldt (1769-1859).
He brought both science and imagination to his understanding of nature.
Andrea Wulf in her  book The Invention of Nature: Alexander Von Humboldt's New World points out that Humboldt read plants.
She writes, "Humboldt 'read' plants as others did books — and to him they revealed a global force behind nature, the movement of civilizations as well as of landmass. No one had ever approached botany in this way."
Humboldt's view of nature as one, and not divisions by various sciences, took the world of understanding plants in a new direction.
Now that I think of it, his idea of reading plants makes perfect sense.
A plant you have in your garden right now had a journey to that spot, a journey that may have been decades or centuries. It is not simply a sunflower or a lily of the valley.
They both express a time and a culture from which they originate.
I know they are beautiful in their own right, but they also reflect the history of gardening.
Take the rose as an example and one rose in particular.
The 'Crimson Rambler' became a popular rose with gardeners in the late nineteenth century.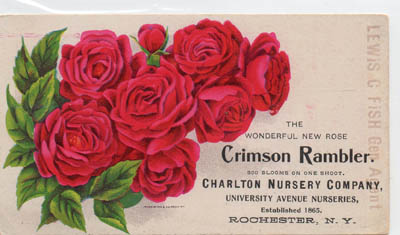 It was introduced to the garden market in England in the early 1890s.
It had come from Japan to a nursery, first in Scotland, then in England.
Queen Victoria traveled to the nursery to see this special rose.
The 'Crimson Rambler' became a popular climbing rose for the next thirty years both in Europe and America.
Eventually it was replaced by other climbing roses, less inclined to problems of disease and insects.
Thus I see more than simply a rose. It represents to me the nineteenth cenutry nursery industry. Its origin tells us it was an exotic in gardens at that time.
The Peter Henderson Seed Company from New York used this rose in its catalog of 1896 [below].
'Crimson Rambler' was not just a rose. It represented as well the influence of the Victorian garden industry on homeowners everywhere.