Right now you might see it along an expressway entrance, bordering a parking lot, in a field, or perhaps in your own garden. This seems to be a great year for the plant called Queen Anne's Lace. It is everywhere.
Queen Anne's Lace, or daucus carota, is a weed but to some people it is a wildflower. The plant, also called wild carrot, is in the carrot family with  ts delicate parsley-like leaves and a long root
This is however an aggressive plant that you do not want to encourage. It is on the plant invasive list for many states around the country for a reason.
Though many people treat it as a weed, it is also known as a wildflower.  It is in the classic volume on recognizing wildflowers called "A Field Guide to Wildflowers" by Roger Tory Peterson and Margaret McKenny.
The plant was introduced into this country during colonial times. It probably came across the ocean in sacks of grain, perhaps with the Pilgrims. It's now established in every state. It might be a beautiful wildflower in a meadow setting but not in the garden.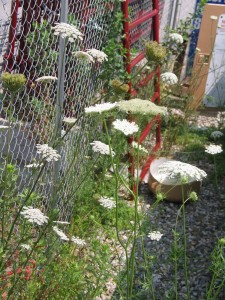 Queen Anne's Lace, typically, near a fence