Public relations and the late nineteenth century garden industry
In the late nineteenth century the practice of public relations emerged though it was not called by that name.
AT&T created a monopoly for its telephone.
The one company owned all the other phone companies scattered around the country.
In its public relations effort AT&T convinced the government that the best way to serve the public was with a monoply.
It worked. For decades that is how AT&T operated.
Karen Russell tells the story in her new book Promoting Monopoly: AT&T and the Politics of Public Relations, 1876-1941.
She writes, "Many people were working to develop communication strategies and tactics long before there was a formal vocation of publicity or public relations."
The words 'publicity' and 'public opinion' became important for AT&T.
Taking the pulse of public opinion became essential for the company.
Even the use of advertising, buying space in a paper or magazine, to tell the company's story, became a form of public relations by AT&T.
By the end of the nineteenth century words like publicity, public opinion and communication strategies were used in AT&T's company documents and press releases.
The goal was to maintain public support.
Garden Industry
Certainly by the end of the nineteenth century the garden industry too had to confront the same tasks in its dealing with the public.
The consumer was simply not going to accept a seed packet, a plant, fertilizer, or a garden tool without seeing evidence of how well they performed.
The company needed to be trusted for a gardener to make a purchase
No longer could a company spokesperson say or write anything to sell a product.
This truly was the begnning of public relations as a company's responsibility.
Russell mentions how the American Newspaper Publishers Association in the late 1880s sought to change certain practices of newspapers. It was then that some editors wrote glowingly about a company because that same company bought advertising space in their papers.
We were beginning to see the rise of a serious look at how a garden-related company goes about promoting its product by creating an image of a company that understood and supported the gardener.
Since the late nineteenth century garden related companies were relatively small, compared to AT&T, nonetheless we recognize their effort to create communication strategies and tactics that fostered good will between the customer and the company. We now know such a company was ahead of most other businesses.
A strategy that took hold in the lat 1890s was an increase in paid advertising.
It was no coincidence that Philadelphia seedsman W. Atlee Burpee (1858-1915) once said, "No business can succeed without advertising." He wrote his own advertising copy, which sold both seeds and garden fashion.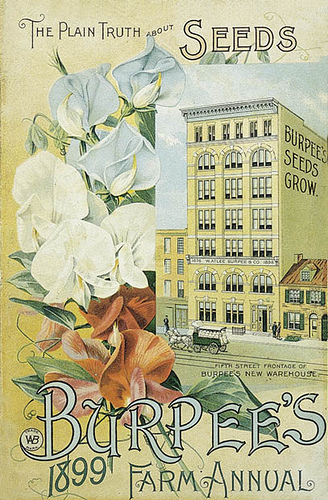 The trade journal Printers Ink wrote about Burpee in its June 17, 1915 issue in these words: "Starting with a modest business in 1876, the House of Burpee has grown into the greatest mail order seed house in the world. Like many other Philadelphia enterprises this establishment is of international importance. Mr. Burpee will tell you that he has built up this great business by advertising, and to a great extent that is so, but back of it all has been the integrity and the enthusiasm of the founder of the House of Burpee."
The public had trust in Burpee. Promoting strong public opinion in his favor became crucial for him and his seed business.
Burpee provides an example of successful public relations practice in the late nineteenth century garden industry.