Public Garden Reflects Early 20th Century Formal Design
Public garden reflects early 20th century formal design.
Sometimes a treasure close to home receives only a fraction of the attention it deserves.
That's the case with the public garden at the Eleanor Cabot Bradley Estate in Canton, Mass. This garden is so close that I cannot figure out why it took me so long to pay a visit.
Its formal look dates to 1902 when Boston architect Charles Platt built both the house and the garden.
That first decade of the twentieth century was a time for renewed interest in the formal look of the garden. Garden designers were moving away from the more natural look that had dominated the garden for many decades both in England and in America.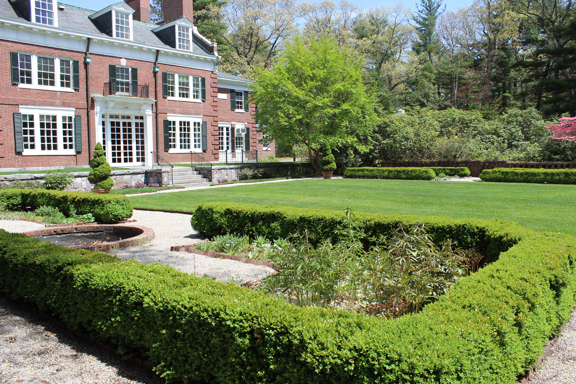 Since 1991 the historic preservation group called Trustees of Reservations has owned the property, with its historic house and garden. The goal of the Trustees, founded by Boston conservationist Charles Eliot in the late nineteenth century, is to preserve the history of exceptional Massachusetts' houses and gardens for future generations. Here TOR has done a marvelous job of preserving Platt's formal garden.
A lawn surrounds the house, but behind the house you see the formal garden.   The garden includes four parterres, each enclosed by a highly pruned boxwood hedge two feet tall. Inside the parterres many perennials provide color throughout the summer and into the fall.
Platt promoted the Italian design for the American garden. In the Bradley garden Platt also designed a red brick lattice wall in the Italianate style. The wall, about four feet high, surrounds the entire garden with its lawn, walkways, and flowerbeds. The wall, with its open spaces, provides an effect of filtered light into the garden.
catholic dating advice for adultsThis year happens to be the one hundred twenty-fifth anniversary of the Trustees of Reservations. Thus during the next few months there will be special events at TOR's 114 special historical places and tracks of land owned by TOR.

Save
Save
Save
Save
Save
Save
Save
Save
Save
Save
Save
Save
Save
Save
Save