Photography Enters Victorian American Homes
Photography enters Victorian American homes.
By the end of the nineteenth century photography had developed a foothold in advertising but also was slowly becoming part of family life as well.
Thomas Schlereth in his book Victorian America: Transformations in Everyday Life, 1876-1918 writes, "Photography, part of American life since the work of the daguerreotypists of the 1840s, did not become an average person's skill until the 1880s."
Before that time a photographer would take an outdoor family photo with the family members often gathered either on the lawn or on the porch.
Here is an example of a family in Gloucester, Massachusetts in the 1870s captured in this photo. [below]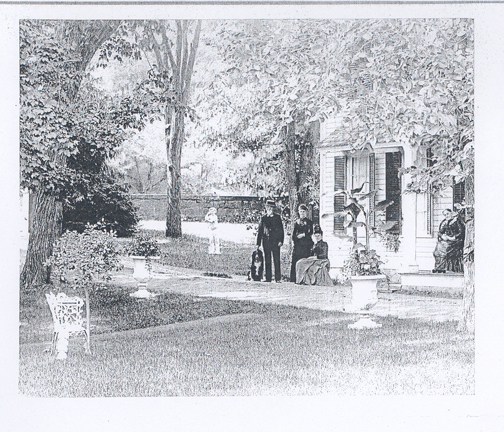 Notice how hard it is to see the faces of these people.  We cannot tell if they like or dislike the photo experience.
Just a few years later hand-held cameras became the sensation with the arrival of George Eastman's  Kodak camera in the 1890s.
Then, as Schlereth writes, "Unlike the professional photographer who usually placed his subjects in front of their house, snapshot-camera buffs often favored the backyard for their settings."
The advertising pitch for Kodak cameras remained constant well into the twentieth century.
Kodak wanted to capture that special moment of family life.  A picture would hold that memory for years to come.  That was a powerful pitch to persuade people to buy cameras. It worked.
The phrase "capturing the Kodak moment" appeared in much of the promotion for Eastman's camera.
Thus taking family photos became an important cultural practice. An experience was not valuable unless you had photos to show it.  Photos became more precious than the experience they captured.
By the early 1900s Kodak advertised its camera with words like "At Home with the Kodak" and  "Let Kodak Keep the Story."
The late nineteenth century seed companies and nurseries too changed with the times. Gone were the colored chromolithographs in the catalog, replaced by the 'more realistic' photograph of the flower or vegetable.