Perennials Took Back Seat in Nineteenth Century American Gardens
Today the question of perennials in the garden hinges on what variety of a perennial does one include.  Should it be native or exotic?
In the nineteenth century the issue of perennials in the garden played like a pingpong ball.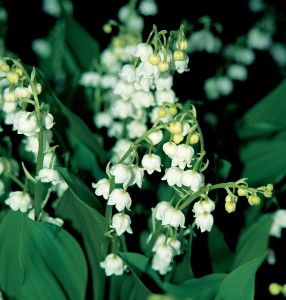 Sometimes the practice was encouraged, and other times deemed not important.
Philadelphia nurseryman Thomas Meehan wrote in his magazine Gardener's Monthly in March of 1883:
"As to hardy herbaceous plants being recommended for general cultivation, I think that day is past. There seems to be a craving in human nature for that which we have not. Rarities, new forms and colors and exotics are more appreciated than those hardy things. But all are good in their place."
The lily of the valley, a popular nineteenth century shade perennial, was included in the Moffatt-Ladd garden of the 1880s in Portsmouth, New Hampshire.   Alexander H. Ladd (1815-1900)  recorded so in his garden journal, discovered only a few years ago.
He thought perennials formed an essential part of the garden. The fact that plants like the lily of the valley were not native did not bother him.
Nineteenth century gardeners like American gardeners today just looked for new plants, and often chose annuals rather than the faithful perennial.