Opium Enriched Nineteenth Century Boston Merchant
Opium enriched nineteenth century Boston merchant –
Nineteenth century Boston merchant Thomas H. Perkins (1764-1854) cultivated a landscape at his country estate in Brookline, Massachusetts in the English landscape style.
This portrait of Perkins by Thomas Sully today hangs in the large first floor meeting room  of the downtown Boston Athenaeum. [below]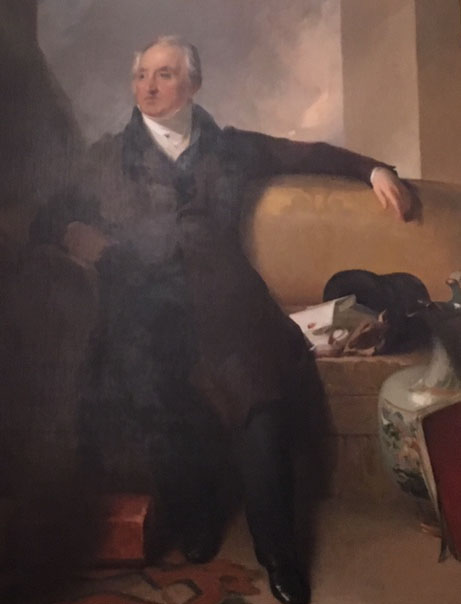 Perkins became one of America's first millionaires.
To increase his sale of goods to China Perkins found himself in the opium trade.
In 1815 he opened an office in Afghanistan in order to buy opium there to sell to China.
Stephen Harris wrote a great book called Planting Paradise: Cultivating the Garden 1500-1900, which covers the history of gardening.
Harris writes, "Ultimately, tea transformed English society, was a driver of the Industrial Revolution in the early nineteenth century, maintained the opium trade with China and became a new crop for colonial India."
He draws a link between the sale of tea and the sale of opium in the nineteenth century. Both made certain people quite wealthy.
Perkins' Fortune
Perkins built his fortune by selling opium more than any other product.
At the same time he offered substantial financial assistance to local institutions like the Boston Athenaeum and Massachusetts General Hospital.
Today these institutions as well as Perkins School for the Blind, another of his charities,  have had to respond to this part of their history. People inquire how they could have accepted money made from selling opium.
In their book Merchant Prince of Boston: Colonel T. H. Perkins, 1764-1854 Carol Seaburg and Stanley Peterson write, "They cheerfully rationalized that the opium habit was not nearly so debilitating as the habit of drink."
I don't know what the word 'cheerfully' means here. I would say they saw opium as a business. It was, after all, legal in America at that time.