Olmsted Firm Designed Early Twentieth Century Formal Garden
Frederick Law Olmsted (1822 – 1903) designed Central Park in the Romantic English garden design style, sometimes called the natural look. After his death, his firm, called the Olmsted Brothers, took on projects more formal in design, including a home landscape in Brookline, Massachusetts.
According to Mac Griswold and Eleanor Weller in their book The Golden Age of American Gardens, 1890-1940, "at the turn of the century Brookline, Massachusetts was the richest suburb in America."
The property of Colonel Thomas H. Perkins, at the corner of Heath and Warren in Brookline, reflected that wealth. An extensive lawn surrounded his home, as did greenhouses and orchards of fruit trees, a kitchen garden, and flowers.
After the Colonel's death, Perkins grandson Louis Cabot in 1895 built his own twenty-three room mansion on the property, not far from where his grandfather's home once stood.
In 1916 Mrs. Cabot, then a widow, sold the house to Henry Lapham. Quite soon after that the Laphams employed the Olmsted firm to design and install a formal garden.
The archives from the Olmsted firm, also located in Brookline, not far from where the Cabot house once stood, made this plan available. [below]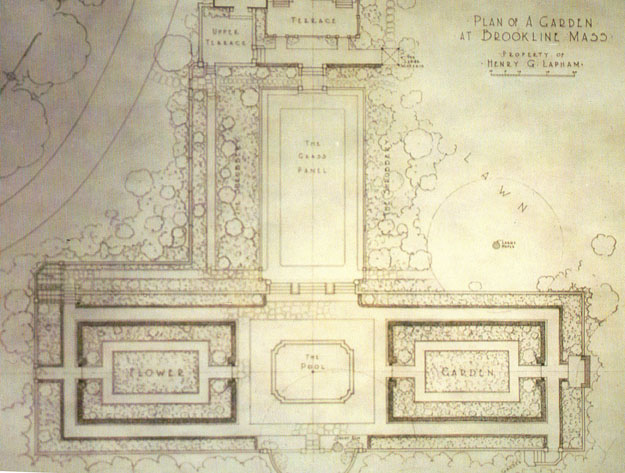 In the early twentieth century there was renewed interest in the formal garden, both in England and in America. The Olmsted firm's design for the Laphams followed the trends of the time.
The plan, dated 1916, illustrates the symmetry in the lower garden. Two flower beds stand on each side of the rectangular pool with its water feature in the center.  The pathways are straight lines as well. A high red brick wall surrounds most of the garden.
In the 1920s the Lapham  garden was featured in magazines like Architectural Forum, House and Garden, Horticulture, and Garden Magazine. The Brookline Garden Club often toured the garden.
The Olmsted Brothers firm designed this early twentieth century formal garden.