NY Sonnenberg Mansion's Special Garden
NY Sonnenberg Mansion's special garden
The Sonnenberg Gardens and Mansion in Canandaigua, New York offer much to see for any gardener.
A number of different gardens are spread throughout the fifty-acre property with its Gilded Age mansion. 
On a recent visit I found the blue and white garden, near the house. It must have made such a pleasant retreat. [below]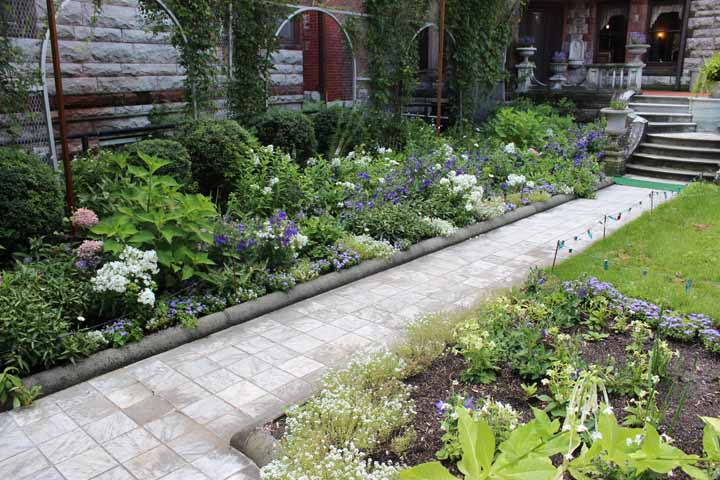 The walk-way of pavers connect the garden to the house. It is as if the garden were an outside room.
Making a garden seem like an an outside room became a popular style of garden design in the early 1900s when this garden was installed at Sonnenberg.
Plants
The garden grows familiar plants, each chosen for its color and final size for this special setting.
Today the blue flowers include gentian salvia, lobelia, larkspur, and delphinium.
For white blossoms a visitor will see sweet alyssum, campanula, phlox, hyacinth, and agapanthus.
The flowers are combined with ferns and palms from the greenhouses.
The over-all aesthetic for this blue and white garden relies heavily on the Victorian period when colorful flowers, as well as ferns and palms, took center stage both inside and outside the house.
Rochester, New York seedsman James Vick (1818-1882) wrote in 1878, "Earnestly have we desired to see the people of this country appreciate the beauties of nature, study nature's laws, and, above all, love flowers and delight in their culture."
Art in the Garden
The garden also features an oval pool as well as a marble summerhouse with a statue of a female figure in its center.
Along the edge of the pool you will see a white marble statue of a boy riding a dolphin. Supposedly this sculpture dates back three hundred years. [below]
The blue and white garden lines the wall behind the house which must have made it easy for anyone wandering out from the door of the house to enjoy the garden.
Today any visitor to Sonnenberg, now a state historic park, can also enjoy this special garden.