NY Italian Garden Reflects Victorian Period
NY Italian garden reflects Victorian period.
A recent visit to the Sonnenberg House and Gardens in Canandaigua, New York revealed a bit of American garden history.
The drive on the New York thruway back to Boston from the Association for Garden Communicators annual conference in Buffalo meant passing the Sonnenberg estate which is not far from Rochester.
There I saw the nine gardens that dot the estate landscape including the Italian garden.
Located in the area directly behind the house the Italian garden is filled with plants, many potted for the summer season. [below]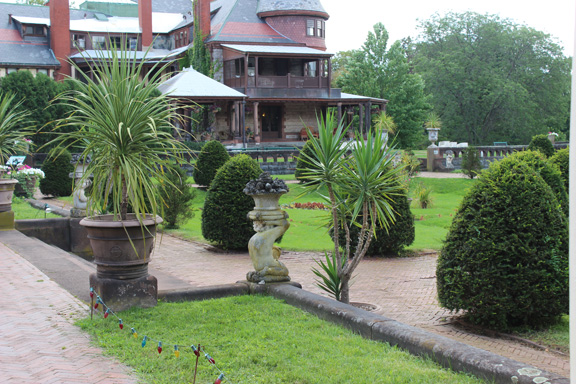 In 1900 the owner Mary Clark Thompson, whose father was once the New York governor, hired Boston landscape architect Ernest Bowditch. A couple of years later he designed this Italian garden for Mrs. Thompson.
The center of the Italian garden includes a Fleur-de-lis pattern of flower beds.  The popular 'carpet bedding' pattern appears on the lawn.
This garden design reflects the Victorian interest in Italian gardens at that time. In 1904 novelist and garden design enthusiast Edith Wharton, following her trip to Italy, published her book  Italian Villas and their Gardens.
You could define the 'Italian' garden as a reflection of the Renaissance garden that later also influenced the landscape of Versailles.
The Sonnenberg garden displayed that grand formal style of design with water features along with straight lines of clipped shrubs and several planters filled with tall, showy tropical plants.
The coleus for the carpet beds in the Italian garden were grown in Sonnenberg's own Lord and Burnhan greenhouse.
Visiting this grand estate and garden is like a trip into the late Victorian period. 
Sonnenberg House and Gardens, restored and now well maintained, is one of America's most preserved country estates from that time.