No Nineteenth Century Home Landscape without a Lawn
Rochester plantsman George H. Ellwanger  wrote his book The Garden's Story in 1887. He was the son of the founder of Mount Hope Nurseries begun in the 1840s.  Father and son both died in 1906. A wonderful tribute to George H. appeared in an online Rochester neighborhood newsletter called  Mount Hope Virtual Scrapbook.
Ellwanger spent several pages in his book discussing the lawn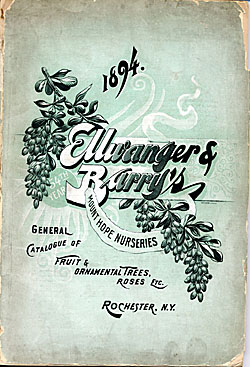 He wrote: "I take it for granted the lawn will receive the consideration it deserves. Undoubtedly the most important element of beauty of the grounds, without it all other forms of embellishment go for little."
Then he recommended various grasses that a home owner could use for the lawn.
He also mentioned the constant struggle with weeds that appear in the grass. He said,  "Even with all possible pains and precautions we are still without a perfect lawn."
He ended with a reference to the English landscape gardener and writer John Claudius Loudon (1783-1843).  Ellwanger said, "We thus see that a fine velvety sward, like very many other desirable things, has its price; and that, to carry out Loudon's apothegm, 'The basis of all landscape-gardening is a good breadth of grassy lawn,' calls for forethought, pains, and unflagging perseverance."
On my trip to Pittsburgh last week for the Garden Writers Association Annual Symposium I visited a garden called the Newington Estate, one of the oldest homes in a town outside the city called Sewickley. The 10-acre landscape was laid out in the late nineteenth century.
What impressed me about this garden was how extensive it was. Of course the garden included a lawn[below].
As we toured the Newington property, the current owner David Shields mentioned that the front lawn was installed in the style of the eighteenth century English landscape gardener Lancelot Capability Brown (1716-1783).
Today I came across an article from the Pittsburgh Gazette called dating apps japan 2021  that says the same thing: "At Newington [the late nineteenth century American landscape gardener] Samuel Parsons installed a romantic landscape in the style of the 18th-century English landscape gardener Lancelot 'Capability' Brown."
Thus the lawn at Newington also reflects the popular English garden style of the eighteenth century.
At the same time that George Ellwanger wrote about the importance of the lawn, Parsons supervised the installation of the lawn at Newington.