Nineteenth Century Boston Merchant's Country Estate
Nineteenth century Boston merchant's country estate –
Recently I attended a short talk at the Boston Athenaeum where a staff member discussed three Athenaeum portraits.
My intention in taking the train to participate in this session was to hear about the Athenaeum's portrait of Thomas Handasyd Perkins (1764-1854).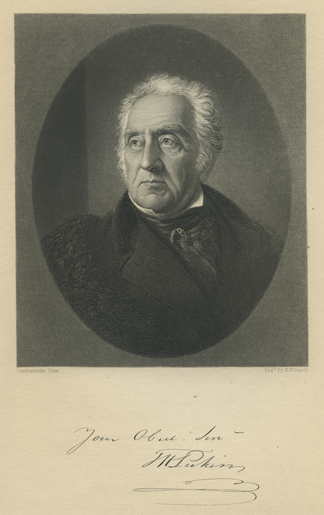 Sending his ships primarily to China, Perkins became a wealthy merchant in nineteenth century Boston.
The speaker's remarks at the Athenaeum centered on what a philanthropist Perkins had been for the city.
He founded the Perkins School for the Blind, which today is located in Watertown.
Perkins owned a downtown home, first on Pearl Street and later on Temple Place, but also escaped the summer heat to his country home in Brookline, a few miles from Boston.
Brookline Estate
Perkins purchased the land for his Brookline estate in 1799.
The Boston Athenaeum archives include a landscape plan for the Perkins' Brookline property.
The plan illustrates the modern form of landscape gardening, begun in England in the eighteenth century.  This style, because it was the fashion, attracted wealthy Americans throughout the nineteenth century.
The landscape in his estate reflected the English style of rolling lawns, trees, and shrubs.
The extensive lawn, dotted with several greenhouses, takes up most of the space in the plan.  The plan shows a kitchen garden and orchards as well.
According to their book Merchant Prince of Boston, Carol Seaburg and Stanley Peterson write that the Perkins' Brookline property, on the corner of Heath and Warren, became "one of the show places around Boston."
There Perkins cultivated plants from around the world, including a grape-vine from England's Sir Joseph Paxton, the head gardener at Chatsworth. Paxton became one  of the most important gardeners in England.  He also designed the Crystal Palace for the London Exhibition of 1851.
Like other prominent men of his time who owned such country estates, Perkins chose to design in the modern English landscape style.
Seaburg and Paterson note that at the Perkins' garden, "Encouragement was given to ornamental gardening, with an eye to the art of landscaping."