Newport's Restored Blue Garden
A restored garden always brings a sense of excitement.
You are seeing a garden the way it was first installed.
Or so you think.
Last week I visited the restored private garden called Blue Garden in beautiful Newport, Rhode Island. [below]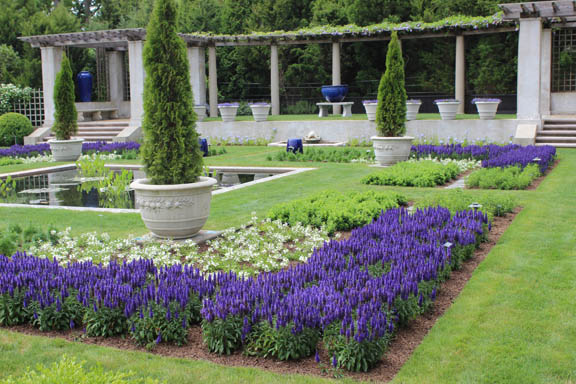 The garden is located in an area just past the Gilded Age seaside mansions on Bellevue Avenue. You proceed on Ocean Avenue and shortly you arrive at the property located on Beacon Hill Road.
To say the garden has been restored is only the beginning of what the philanthropist and horticulturalist Dorance H. Hamilton and her team of architects, contractors, and landscape designers have created.
The restored Blue Garden is a glorious garden experience.
Environtmental Concern
What I learned was that though the garden has been restored, the new garden is in keeping with serious environmental and maintenance concerns.
For example, the many plants that have been introduced demand far less upkeep than the original varieties included on the Olmsted plant list of 1913.
I saw frequent groupings of white Scaevola aemula and blue Veronica 'Magic Show Wizard of Ahhs.' They complement each other quite well.
The two pools still form the backbone of the garden. They sit exactly where they were in the 1913 design of the Blue Garden by Frederick Law Olmsted Jr.
The garden had been left for years and became severely overgrown with invasive plants like the Norway maple.
When Mrs. Hamilton purchased the property in 2012, she wanted, above all, to restore the Garden.
She succeeded.
With over two thousand annuals, perennials, vines, and shrubs along with two hundred fifty evergreens in the three acre garden-site you experience a bit of yesterday, but designed with today's concern in water and land preservation.
The design of the garden still reflects the formal garden style which was popular in the early 1900s, with such landscape designers as Charles Platt, Edith Wharton, and, of course, the Olmsted Brothers firm.
Everything the builders found as they dug up the original garden, where it could be, was recycled in some way.
Though the builders had the original plant list from Olmsted, they opted, where possible, for plant varieties that were easier to maintain.
Plan a Visit
Newport in the summer becomes a major attraction for the State of Rhode Island. Nonetheless, the Blue Garden ought to be on your list of places to visit.
Remember that the Blue Garden is a private garden and open only at special times. Thursdays til October you can join a guided tour of the Garden. Email the Director Sarah Vance ahead of time since the number of visitors admitted is limited.