Newport Mansions Feature Christmas Poinsettias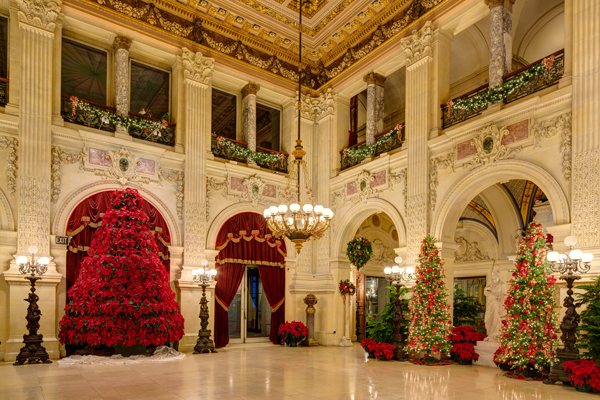 Newport mansions feature Christmas poinsettias.
Everyone knows that Newport, Rhode Island is home to the east coast grand mansions of America's Gilded Age.
Right now four of the mansions have taken on a festive holiday look.
Four Mansions
Until January 1 you can visit these four Newport mansions, The Breakers, The Elms, Rosecliff, and Marble House, decked out in lights and the holiday colors of red, green, and gold. The Preservation Society of Newport County, the group that oversees eleven historical properties in Newport, has made this holiday display at the mansions available to visitors for more than twenty-five years.
Decorated Christmas trees dot the rooms of the mansions. The trees sometimes surprise you when you turn a corner and see a tall evergreen decked in gold and red as in the Gothic Room of Marble House.
The dining room tables are set with period silver and china, and individual white candles illuminate the windows. Christmas wreaths and evergreens decorate walls.
Poinsettias
Three thousand poinsettias add color to the rooms of the four houses. The plants, grown in the Preservation Society's own greenhouse,
are removed and replaced several times during the holiday season to ensure the displays remain fresh.
The poinsettias at http://americangardening.net/senior-dating-reviews/ provide a stunning show of the season's colors.
Architect Richard Morris Hunt designed The Breakers, a 70-room Italian Renaissance-style palazzo, built in 1895, for Cornelius Vanderbilt II, President and Chairman of the New York Central Railroad.
Its interior includes rich marble, mosaic tile floors and ceilings, and open-air terraces with magnificent ocean views.
The Breakers
Right now in the Grand Hall of The Breakers stands a 15-foot tree made of red poinsettias. The room with its walls of yellow stone and a 50-foot high ceiling that seems to go up forever shines with the red color of the poinsettia.
When The Breakers was built, the poinsettia, originally from Mexico, was beginning its journey as the holidays' most popular decorative plant.
Nineteenth century Philadelphia nurseryman Robert Buist, who introduced the poinsettia to the garden industry, once said that it was "truly the most magnificent of all the tropical plants we have ever seen."
Philadelphia nurseryman Thomas Meehan included an article about the poinsettia in his magazine Gardener's Monthly in May of 1876.
Meehan said that this plant "has been of late years an almost indispensable adjunct of Christmas decorations, be they of church or hall–the brilliant Poinsettia pulcherrima, the bright scarlet bracts of which give the head of blossoms a flower-like appearance, and serve admirably to lighten up the somewhat somber masses of evergreen."
And that is truly what you find at The Breakers. The blossoms of the poinsettias brighten up this mansion and three others in a holiday spirit.