New Book Traces the Legacy of Highclere Castle
I just finished reading Lady Almina and the Real Downton Abbey: The Lost Legacy of Highclere Castle.
The author is the current Countess of Carnarvon, Lady Fiona, who married the Earl of Carnarvon in 1999.  They took over Highclere eight years ago.
The book reads like a novel. It is nonfiction, and based largely on letters and diaries of the people who form the legacy of Highclere Castle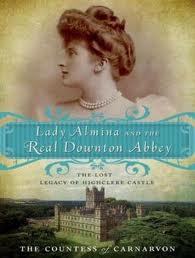 Highclere is the site of the fictionalized Downton Abbey where the Crawley family lives. Yesterday the show began its season number three on PBS.
Lady Almina enjoyed her role as Countess in the early 1900s, socializing with the elite, including the monarchy. But that is not what I remember most.  What struck in the book was Almina's selflessness in helping others, especially those injured in World War I.
This book portrays  the battle in quite a bit of detail, but through it all shows the senselessness of war.  Young men killed, and those who are hurt and return home, only to spend their lives with war memories that haunt them.
Through it all Almina shines in her care as a nurse, first at her home at Highclere, and then in a hospital she built in London.
I came away from reading this book with a greater respect for the Carnarvon family.
The discovery of King Tut's tomb in Egypt also plays a key part in the story since it was Lord Carnarvon who embarked on that journey.  The details in the trips to Egypt to explore the tomb keep you turning the page to see what will happen.
I must, of course, say something about the landscape of Highclere since that is what drew me to the book initially.
Lady Carnarvon refers to the property as a park. She writes that the family would take a 'stroll in the park'. That gives you some idea of the size of the estate.
Also she mentions the Lancelot Capability Brown (1716-1783) design for the property.  Brown, the most famous landscape gardener in the eighteenth century, provided the lawn that we see every week as Downton Abbey begins.  That was his signature look for the landscape.
Finally she remarks that the Castle owned the family, rather than the other way around.
You come away from the book with a level of respect for the rich and powerful Carnarvon family through Lady Almina's service to others.