New Book on Preserving America's Historic Gardens
Here's a new book on preserving America's historic gardens:  Rescuing Eden: Preserving America's Historic Gardens.
We need public gardens to renew our spirit. Caroline Seebohm, the writer, and Curtice Taylor, the photographer, chose beautiful public gardens across America to make that point in this book.
They take you on a journey to twenty-eight gardens from California to Maine, all now open to the public. Some are well known, while others are smaller, less familiar gardens. Whoever chose this group had a difficult time because there are many other public gardens with a parallel story of survival.
What makes the gardens in Rescuing Eden special is that at one time when there was a question about their future, someone came forward to preserve them as a page in our cultural history. These gardens now serve as a source of beauty and contemplation for historians, botanists, horticulturalists, and garden lovers from all over the world.
The book celebrates these gardens as survivors, with gratitude to the organizations and volunteers who have preserved in these gardens a bit of America's heritage.
The illustrations of each garden take center stage in the layout of the book. Taylor provides fine detail in his photographs of plants, garden accessories, stone, water, and pathways at each particular site.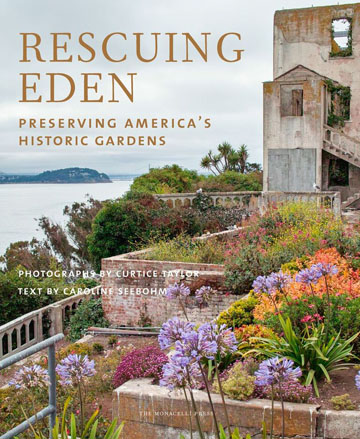 Seebohm in turn gives context to the book's many images. She writes simply and clearly about the history and current status of each garden. Some, as she explains, were saved from demolition at what seemed like the last minute.
I must say, especially from the few of these gardens that I have visited, they are gardens worth seeing because they represent different garden styles and periods in American history. dating apps in new york, the oldest surviving landscaped garden in North America, stands out with its extensive lawn. dating for deaf singles, Robert Dash's garden on Long Island, provides a modern designer's experience.
Dash once said, "Making a garden means knowing who you are." What fun it is to learn about the person behind each garden. You feel like you are meeting an old friend.
Taylor ends with what motivated him in publishing the book. He says, "We are now paying attention to these horticultural landscapes."  I might add, thanks also to your new book.