Victorian Seed Company Believed in Advertising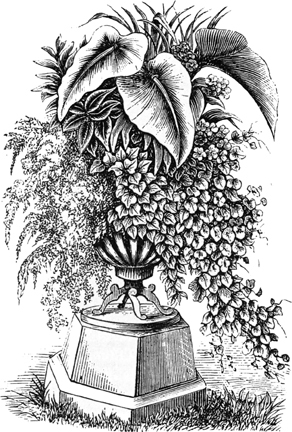 Victorian seed company believed in advertising –
Recently from the New York Botanical Garden's Mertz Digital Nursery and Seed Catalog site I learned a bit about the relationship between seed company owner James Vick (1818-1882) and J. Walter Thompson, the great American advertiser at the turn of the twentieth century.
Here is what the article said about Vick and Thompson,
"James Vick of Rochester, NY spent about $100,000 a year, an enormous sum of money in those times, in advertising, all with the J. Walter Thompson agency. When Vick died (1882) the management of the business was taken over by his son James Vick, Jr.
" Vick promptly told Thompson that he had all the business he could expect to get and decided to quit advertising and add $100,000 a year to his profit. Thompson cautioned Vick by saying 'Vick you are crazy; it will only be a question of time until you are bankrupt.'
"Soon thereafter the Vick family's diminished finances forced Vick's daughter to become a governess for one of his Pittsburgh clients."
J. Walter Thompson, important advertising executive in late ninetheenth century America. [Courtesy of NY Botanical Garden, Mertz Catalog Collection]
I thought what a sad story this is turning out to be.
Here is an early Vick catalog from the same site [below]:
The Mertz commentary concludes with these words, "Thompson's story may have been more a case of resentment about losing the Vick account than an unbiased evaluation of the Vick's business prospects. The James Vick and Sons nursery business continued operations until the 1930's when it was sold to Burpee. "
That Vick spent a great deal of money on advertising probably contributed to his popularity in the late ninteenth century. His reputation as an honest peddler of seeds spread across the country.
It was, I believe, his sincere interest in his customer that sealed the deal and made the company a success.
He wrote "I have labored to teach the people to love and cultivate flowers, for it is one of the few pleasures thst improves alike the mind and the heart, and makes every true lover of these beautiful creations of Infinite Love wiser and purer and nobler."
There is no dubt that advertising for the James Vick Company could have first introduced a potential customer to Vick and his seeds.
It was, however, his warm relationship with his customers, mainly in his writing, that kept them coming back for more seeds.