Late Nineteenth Century American Garden Writer Treasured the English Garden Tradition
Rochester, New York nurseryman George Ellwanger (1848-1906) wrote a book in 1887 called The Garden's Story.
In the book he  recognized that he was a gardener in a long line of gardeners, including the English gardeners who first encouraged the natural landscape design style early in the eighteenth century.
He credited three gardeners, two English and the other American, long gone but an important influence on his own gardening. He mentioned the English poet and gardener Alexander Pope, English gardener and historian Horace Walpole, and America's landscape gardener Andrew Jackson Downing.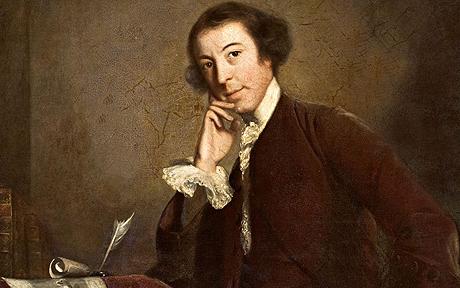 Horace Walpole (1717-1797) was an English art historian, writer, but also a gardener.
Ellwanger wrote: "Pope was a gardener, of course. That he was passionately fond of gardening can not be doubted in view of his statement, as given by Walpole, that of all his works he was most proud of his garden. He was a landscape-gardener rather than a floriculturist, however, painting with trees instead of flowers; and when we look over the great field of those artists whose canvas was Nature herself, where shall we find one who possessed the flowing, natural touch of Downing?"
Ellwanger recognized the importance of these two early English garden writers, who later inspired the American nurseryman and landscape gardener, Andrew Jackson Downing.
Isabel Wakelin Urban Chase in her book Horace Walpole: The Gardenist credits Walpole with defining the new taste in gardening based on the principles of "picturesque beauty'. She writes: "Walpole has been regarded as the best contemporary historian of the changes in gardening which took place in the mid-eighteenth century."
By the end of the nineteenth century Ellwanger recognized the contribution that Walpole had made to gardening by then expressed in landscape gardening in America. That design relied on the romantic English garden style, so loved by Downing.