Last Week's Boston Flower Show Featured a Garden Train
The toy train traveled through a miniature landscape, arriving at Rosecliff, the 21-acre summer home in Newport, Rhode Island, completed in 1902 for $2.5 million.
The Rosecliff mansion, modeled after the Grand Trianon at Versailles, also just happens to be the site of the June 27 to 29 Newport Flower Show.
With the train leading to its front door the Rosecliff exhibit [below] became an award winner at last week's Boston Flower and Garden Show.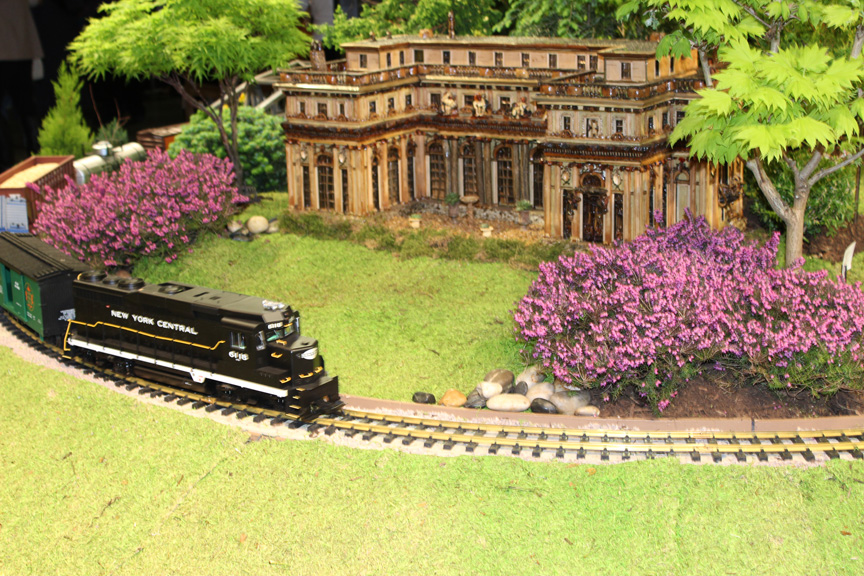 The exhibit won three important awards. It received the Landscape Design Council of Massachusetts award for excellence in landscape design; Boston Flower and Garden Show Premium Award for use of outstanding forced plant material hardy in New England; and the Boston Flower and Garden Show award for garden ornaments.
The exhibit featured working replicas of New York Central Railroad trains and a model of Rosecliff made entirely of botanical material.
A silver heiress from dc gay speed dating by the name of Theresa Fair Oelrichs built Rosecliff. Her father made his money in the mines of Nevada, just outside Reno.  When she married, he presented his daughter with a gift of a million dollars.
This past summer I traveled to the hills of Reno to visit Virginia City. The town stands just as it did in the late 1880s with its restaurants, shops, saloons, and now a few museums.  All I could feel as I walked the board sidewalks is that life there was not easy.
The money the mine workers made paid for Rosecliff, on the other end of the country.  People with money built such mansions during the Gilded Age, a time when no one paid personal income tax and so could afford the luxury of such grand summer homes.
Rosecliff's landscape design represents a combination of formal gardens with an extensive lawn which stretches down behind the house just enough to capture a view of the ocean.  This design was popular with summer estates of that period.
Congratulations to the Newport Flower Show that sponsored this exhibit about Rosecliff.