Italian Garden Center Sells the Same Plants as US
My recent trip to Amalfi brought several garden experiences that I will remember for a long time.
One thing that comes to mind is on the Amalfi coast I saw at a nursery the same annuals we can buy here in the States.  Three varieties for sale were the short wax begonia, yellow marigolds, and red geraniums.
It was as if I was at home.
What that means to me is that the power of marketing communication today makes a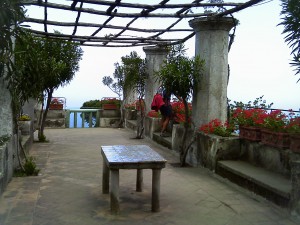 plant variety easily recognizable, perhaps even around the world, and that is the plant that people want to grow.
Mass marketing of the garden only began in the later part of the nineteenth century when communication innovations like the typewriter and increased speed in printing along with increased advertising became common.
And thus is has continued to this day.
So in one sense it is no surprise to see the same annuals for sale in Italy since the companies that grow the plants are often international corporations.
Since the late nineteenth century American gardening has been intimately connected with the mass marketing of plants and garden products.