Island Beds Became Popular in Victorian Gardens
The Victorian garden took many forms during the nineteenth century, but one thing for sure was that if a particular garden style happened in England, it was sure to appear on American shores as well.
Carpet bedding and the wild garden were two garden fashions in the Victorian garden of that period.  American received both with enthusiasm and energy.
Another garden fashion became the island garden in the landscape.
Anne Jennings in her book Victorian Gardens presents both a history of the island garden and then includes  instructions so the gardener today might incorporate such a design.
She writes about the island garden in these words: "Choose tall, substantial plants for the back of borders or in the centre of island beds. These will also provide a structural element to the planting scheme…For flowering plants try canna, rheum, or datura, and for foliage use banana, castor oil plant, thus or Chusan palm.'
After I read those words I realized that in my own garden this summer I had planted an island bed with a banana in the  center. [below]
The plants round the banana included Sedum 'Matrona', hosta, and annuals like red petunia and white verbena.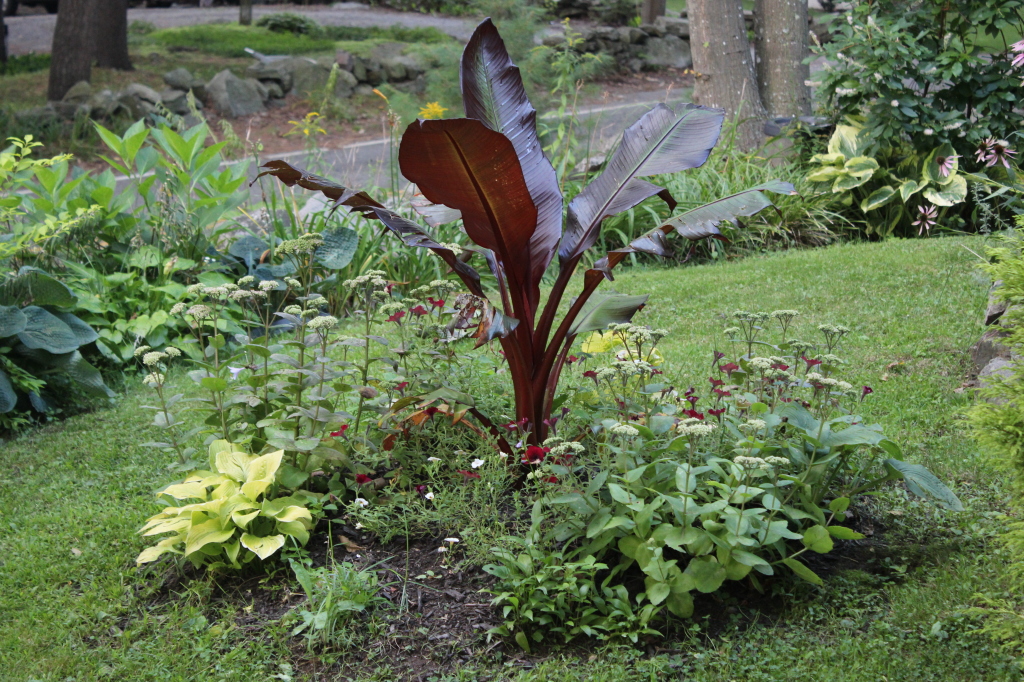 This bed appears on the front lawn, as you can see.
A bit of Victorian garden design still proves worth incorporating today as well.