In Search of a Blue Dahlia
In search of a blue dahlia –
I have often heard that there is no blue dahlia.
Last year I planted a blue dahlia I bought at the market Stop and Shop. The bright photo on the front of the box depicted a very blue colored dahlia. The name of the variety was 'Blue Bell.' I had to buy it.
On the website Gardenia.net I read a bit about this dahlia.
The site said, "Produces truly beautiful purple-blue flowers adorned with broad petals that fade to lavender-blue.
"The fully double flowers, up to 4-6 inches…are normally large and the plants easily top 40 inches tall, although there are even taller varieties."
I thought what a find this was to come across a blue dahlia in a local supermarket.
It did not bloom last year, but I still packed it up to store for the winter.
It bloomed this year. As you can see, it is not really a pure blue look.
It looks more like a purple. [below]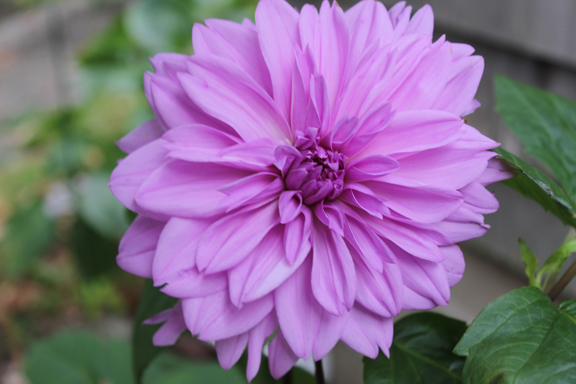 Dahlia expert and writer Bill McClaren wrote the book Encyclopedia of Dahlias.
He says, "If a bloom in the red class has the least hint of blue in it, it is classified as purple."
Other dahlias in my garden
I planted several dahlias this summer.
When I was walking around the garden last week, I realized that the front door was framed with dahlias.
There I saw on the right the tall red 'Bishop of Llandaff' and on the left in the back the yellow 'Sunburst Nelson.'
This photo of the front steps highlights the colors of both yellow and red in these two dahlias. [below].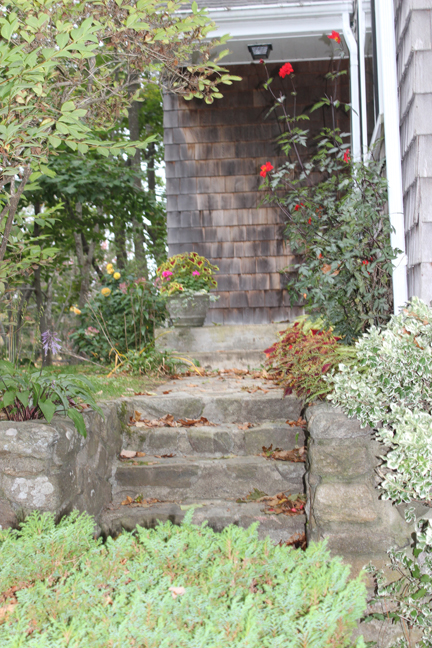 It was fun to experiment with a blue dahlia, but these two faithful varieties work just fine for me.
James Vick (1818-1882), seed company owner from Rochester, New York, loved dahlias. No surprise that he wrote in 1878, "The dahlia is ouir best autumn flower. We can depend upon it until frost, no matter how long delayed."