In mid-Nineteenth Century Mass Planting Became Fashionable
Mixed borders, or what we call perennial borders, endured a rocky history in the nineteenth century. In the early part of the century they were popular in gardens everywhere both in England and America.
By mid-century however mass plantings in ribbon beds and carpet beds replaced the mixed borders.
By the end of the century mixed borders reappeared as evidence again that fashion in garden comes and goes. But mass planting endured for several decades.
In her book The Victorian Garden Allison Kyle Leopold wrote, "Although the switch to perennial borders took place in England as early as the 1870s, the style did not overtake American gardens until the turn of the century."
What had become popular were mass plantings of one type of plant, like lobelia, alternanthera, and coleus, because of the color of the flower or the leaf.
In its 1888 March issue the newspaper American Agriculturist summed up the situation in this way: "Until about fifty years ago, this, the 'mixed border', was the general style in which gardens were laid out and planted. About that time the bedding system was introduced. This was called 'massing', ribbon planting, etc. In this, plants of low stature are planted close together, so that their flowers produce masses of contrasting or harmonizing colors."
A recent photo below from Elizabeth Park in Hartford, Connecticut illustrates the bedding system. The plants, red and white and blue, form an American flag. [Below]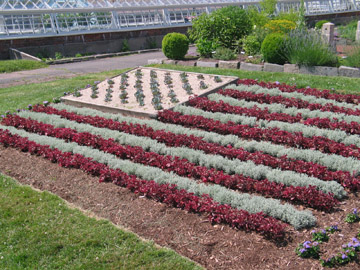 It is no surprise that today you still see such examples of mass planting, a garden fashion that is still with us.