How many hybrids of one plant do we need?
I love the weigela shrub.
At the edge of our front lawn the old-fashioned weigela florida has bloomed each spring for many years.
Did you know, according to Michael Dirr's Manual of Woody Landscape Plants, there are 170 varieties of this shrub available on the market?
Most of them come from Holland and Canada.
My question is: who needs so many varieties of one plant?
In my Garden
I am happy our weigela florida shrub continues to provide color outside the front door. [below]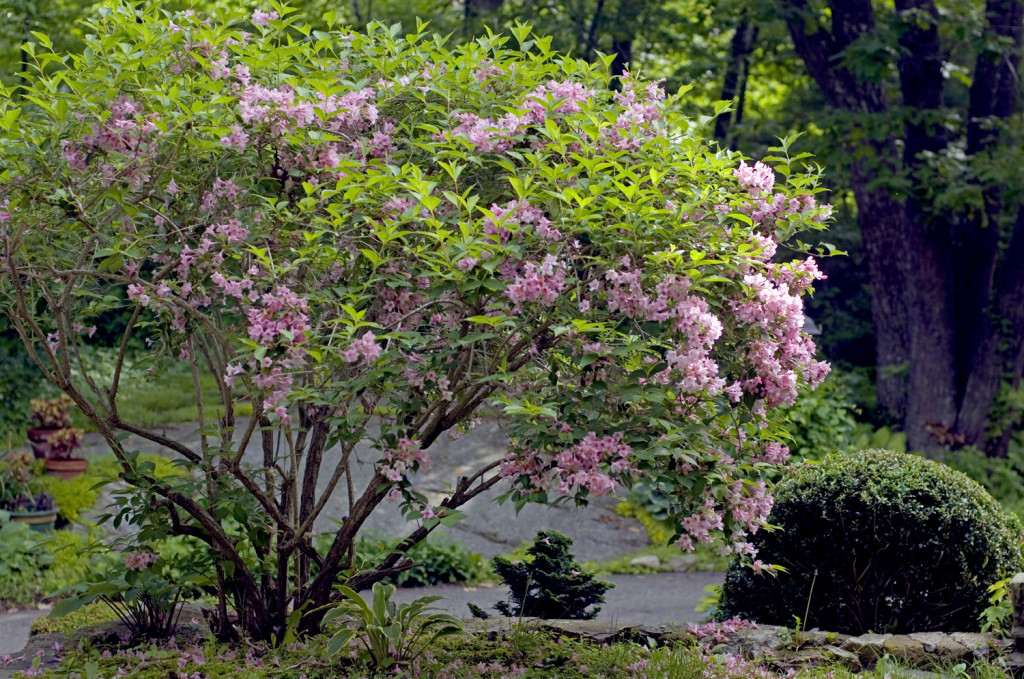 History of the Weigela
Robert Fortune (1812–1880), the Scottish plant collector, introduced it in 1845 from China to England, where it first grew at the gardens of the Horticultural Society.
This shrub, with its reddish-pink bell-shaped flowers, was named after the German botanist Christian von Weigel.
Soon American nursery catalogs listed it as the newest exotic plant from England.
In 1848, the English garden periodical Curtis's Botanical Magazine wrote that it grew in the Royal Gardens of Kew and other botanical gardens in Great Britain.
Weigela florida grows four to five feet high and just as wide, and is valued as a specimen or border plant.
The leaves are two to five inches long, and usually have one end narrower than the other, a pointed tip, and a notched edge. The flowers measure an inch and a half in length. The inner envelopes of the flowers are usually a white, pink, or red color.
This shrub does well in most fertile soils, but prefers a moist, well-drained soil in sun or partial shade.
It blossoms in springtime, mostly during May, April, and June.
What I like about it also is that this shrub is easy to grow and maintain.
A question
I need to ask you a question nonetheless.
How many hybrids of one plant do we need?