Goodwin Visits Hunnewell Pinetum
In 18th century England gardeners sometimes established a pinetum on their property, which was collection of evergreens, some from America.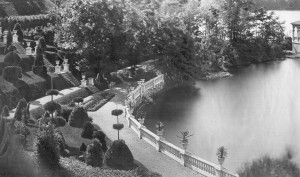 Horatio Hunnewell (1810-1902)  developed a pinetum as part of his landscape  in  Wellesley,Mass.  It became an early American example of such a garden.
In her book Sarah- Her Story Margaret Whyte Kelly writes that Sarah Goodwin (1805-1896) from Portsmouth, NH, wife of the NH Governor,  visited the famous Hunnewell property. Kelly quotes Sarah in these words, "Nature had done everything to make this place beautiful and to this Mr. Hunnewell had added all the attractions of art."
Landscape gardening in England found an American expression in this famous 19th century Massachusetts garden.