Frustrated I Cannot Get to My Garden
Today I saw trays of spring flowers outside the supermarket.
Though I loved seeing them as a sign of spring, they also reminded me of my current dilemma.
I have been trapped in our condominium for six weeks now, due to the state's shelter in place rule.
My garden is at our house in the neighboring state.
I cannot go there without enduring a two week lock-down here when I return.
To avoid that I simply stay away from my garden, located only an hour away.
That does not mean I don't think about the garden.
Here is the entrance to the house along with a bit of the garden. [below]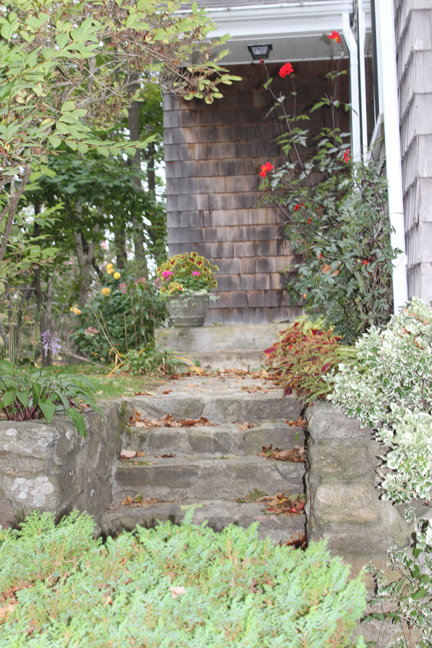 Notice the rather tall red dahlias called 'Bishop of Llandaff' on the right. The cement container, filled with coleus and geraniums, stands at the corner of the cement entry.
In the mean time
Right now I read about gardening. I think about what I will do once we can travel out of state more easily.
The plants I want this summer come to mind. I know I will plant more caladium.
Worry about Deer Damage
Possible deer damage sometimes demands my attention about this time in spring. I know I may have to address such damage if I should find it.
Luckily a few weeks ago I was able to enlist a landscaper in the area to put down http://americangardening.net/miami-backpage-women-seeking-men/ fertilizer over the lawn and flower beds. Though it is not sold as a deer repelant, it does a good job ih keeping deer away.
Yesterday I heard the governor say we still have a few more weeks for the lock down to continue.
Hope it ends soon so I can see my garden, in whatever shape I find it.
I will be so delighted first just to see the garden and then to walk the familiar garden paths.