Flowers Appeared in this Nineteenth Century Brookline Landscape Plan
English landscape gardener Humphry Repton (1752-1818) re-introduced flowers into the landscape in the late eighteenth century.
Nicolette Scourse wrote in her book The Victorians and their Flowers, "Flowers had re-entered the grand garden towards the end of the eighteenth century. Humphry Repton, Capability Brown's successor, had introduced terraces of flowers around the mansion to bridge the gap between building and landscape."
Thus it was no surprise that at the Boston Athenaeum I saw flowers in the Thomas Handasyd Perkins landscape plan of 1849 for his extensive Brookline property, outside of Boston.  The colored plan on the desk in front of me measured 20 inches in height and 64 inches in width. Col. Perkins grandson, the painter and architect Edward Clarke Cabot (1818-1901), drew the plan.
Cabot's most famous architectural design was the Boston Athenaeum at 10 1/2 Beacon Street, near the State House.
In 1851 Cabot painted this watercolor called the Algerine Corner, Milton. [below]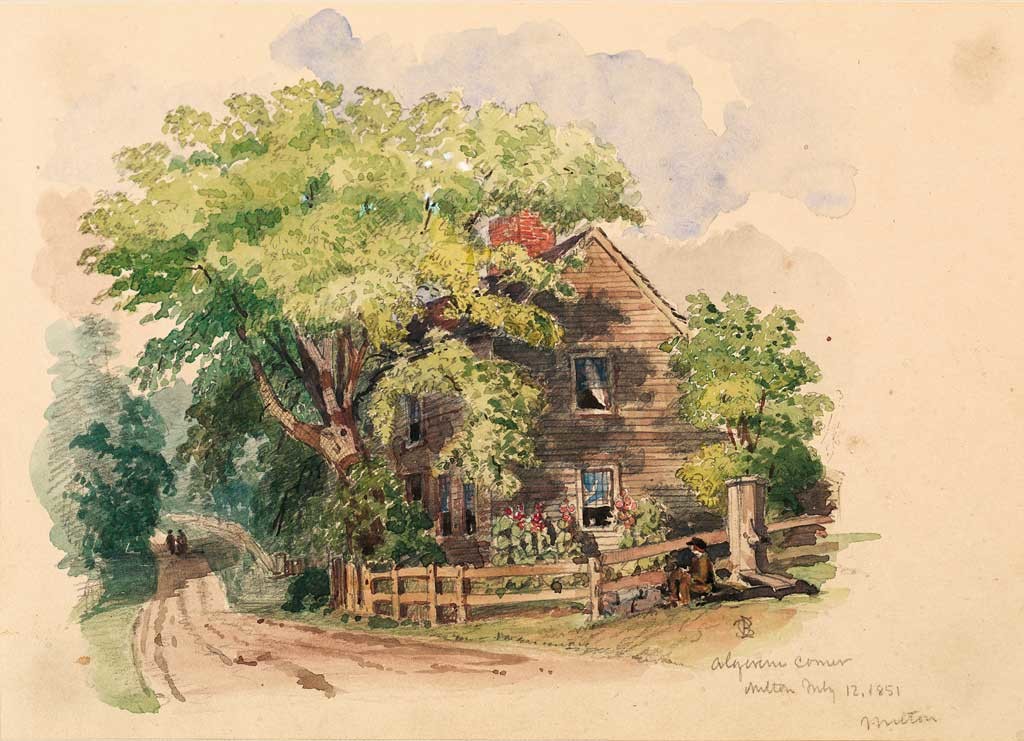 In the Perkins plan there were rows and rows of colorful tiny dots, indicating the beds and borders of flowers that he cultivated.  That garden choice coincided with the latest fashion in modern landscape gardening.
Thomas G. Carey, who wrote gay dating show in 1856, referred to the flowers that Perkins cultivated. He said "After his retirement from commerce, Col. Perkins found sufficient occupation in the management of his property; in various matters of public nature which interested him; and in the cultivation of trees, and particularly of fruits and flowers, on his estate at Brookline."
http://americangardening.net/icebreaker-emails-for-online-dating/ wrote in 1931 about the Perkins estate in these words, "His place was considered more advanced in horticultural sciences than any other in New England." And also, "Visitors noted in September 1835  the annual and other flowers blooming profusely."
Flowers appeared in this nineteenth century Brookline landscape plan.