England's Amazon Water Lily Made History
England's Amazon water lily made history.
No one knew that a single flower, found in the Amazon by a plant collector, could create such a fury in nineteenth century England, but it did. That fury appeared with elements of desire, intrigue, competition, secrecy, pride, and even jealousy.
That flower was the Amazon lily, also called Victoria Regia, and now called Victoria amazonica, or giant waterlily.
All the important botanists in England wanted to grow it.
Robert Schomburgk, while charting the territory of Guiana for the Royal Geographical Society, found the flower in 1837 and named it after Queen Victoria.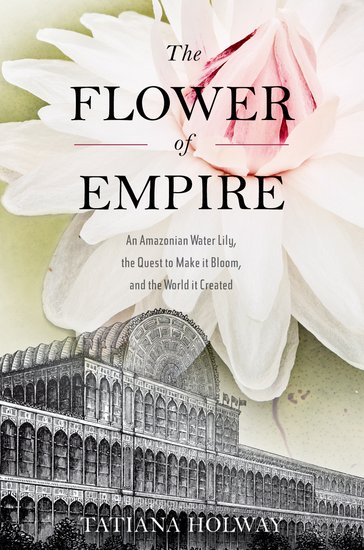 Tatiana Holway tells the story of this lily in her book The Flower of Empire. Sometimes the book reads like a novel. She has included many characters who encountered this flower, including, of course, the Queen herself.
Plant collectors were common in nineteenth century England. Many plants we enjoy in the garden today come from such exploration.
But nobody had ever seen anything like the Amazon lily whose flower was measured, not in inches, but in feet. Its leaves alone measured eight feet wide.
Holway writes, "The Queen's flower [Victoria Regia] was the centerpiece of her colony [British Guiana] and rendered it the very epitome of Britain's imperial destiny."
Several horticulturists in the first half of the nineteenth century tried to grow the seeds from the plant. Schombruk had promised seeds to Joseph Paxton, head gardener for the Duke of Devonshire in Chatsworth, after the Queen.
Paxton succeeded in growing the plant. He even built a special greenhouse for the lily.
That greenhouse served as the model for the Crystal Palace, which he designed in 1851 for the Great Exhibition in London.
So the lily is not only important because no one in England had ever seen anything like it but also because its greenhouse inspired the design of the Crystal Palace.
Here in America John Fisk Allen from Salem, Mass. grew seeds of this lily in 1853. Shortly after that he wrote a description of the slow growth of the plant, which eventually did flower for him.
This chromolithograph by artist William Sharp appeared in Allen's work. [above]
Save
Save
Save
Save
Save
Save
Save
Save
Save
Save
Save
Save
Save
Save
Save
Save
Save
Save