Eighteenth Century English Landscape Garden Included Flowers
Eighteenth century English landscape garden included flowers.
The modern landscape garden began its influence on the evolution of the English garden in the early eighteenth century.
Its distinctive features included views of a long extensive lawn, curved pathways, wooded areas, perhaps a deer park, classic buildings, and even a wild garden.
Flowers were also an important part of this design tradition.
Tim Richardson writes in his book  The Arcadian Friends: Inventing the English Landscape Garden, "As the landscape garden took shape, flowers continued to play an important role, either formally arrayed in those parterres retained from the old baroque style, or else included in the woodland and grove plantings in the new 'wilder' parts of the landscape."
Flower gardens were not generally considered a part of the picturesque or naturalistic tradition, originating in the early eighteenth century. The sweeping lawn dominated the view.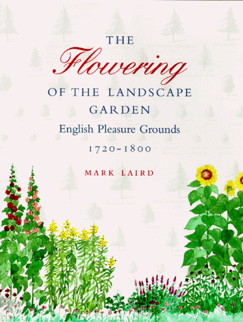 Mark Laird's research also illustrates the importance of flowers in this early English garden.
In his book women seeking men fir sex personals  Laird makes the point that flowers were an integral part of that  eighteenth century picturesque tradition.
John Claudius Loudon (1783-1843), prolific garden writer and a successor to both William Kent and Capability Brown in his role as England's premier landscape gardener, practiced a landscape design with a picturesque look that also included flowers.
Throughout his designs, beginning at Scone in Scotland, Loudon advocated for flowerbeds in the landscape.
In the mid-nineteenth century American nurseryman and landscape designer Andrew Jackson Downing proposed Loudon's landscape design, including, of course, flowers as part of the landscape.