Edith Wharton's Mount Features Shade Garden
Edith Wharton's Mount features shade garden.
Edith Wharton (1862-1937) wrote not only fiction, but her interest in house and garden design inspired both books and articles as well.
She wrote 40 books in 40 years.
Wharton named her house in Lenox, Mass. The Mount. There in the Berkshires she felt inspired to write some of her best work.
In 1902 Wharton designed both the house and the garden at The Mount.
Over the past several years the garden has been carefully restored to its original design.
That design follows a formal Italian look, made of straight lines and symmetry.
At one end of garden you see the formal flowerbeds with the Italianate fountain in all its formal glory in the center.
At the other end of the garden, which you arrive at by walking a tree-lined stone path, she positioned the 'walled garden.'
When she designed the walled garden, the trees and shrubs she installed were small. Then there was plenty of light.
Today you encounter in that same garden a deep shade since everything has grown to such a height.
Thus the gardeners who maintain the area have now planted hosta, astilbe, and ferns.
This is the view out from the walled garden to the back of the property where you can just catch a glimpse of a body of water in the distance. [below]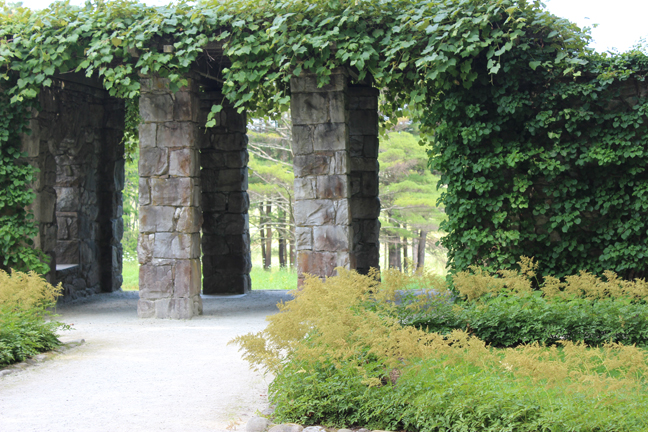 The design of Edith's garden is formal, but now also includes this garden of shade.
In the early twentieth century when renewed interest in the formal garden appeared both in England and America, Edith Wharton captured the popularity of that design in her own garden.
Today the restored garden at The Mount offers the visitor a chance to capture a sense of that moment in the history of American gardening.
Save
Save
Save
Save
Save
Save
Save
Save
Save
Save