Early Wisconsin Gardeners Valued Native Plants
Early Wisconsin gardeners valued native plants.
Just read a wonderful story about native plants in Lee Somerville's book, Vernacular Wisconsin Gardens: A History of Garden Making.
As it happened a homeowner cleared a beautiful little valley full of native plants to prepare it for landscaping. He then called in a landscape architect for advice on how he might improve the area. The owner was surprised when the architect advised the planting of the same kinds that the owner had so thoroughly removed.
Gardeners like Philadelphia's John Bartram encouraged native plants in the eighteenth century.
Then in the nineteenth century as exotic plants arrived for American gardens from Asia, South America, and Africa, native plants took a back seat in the home landscape.
During that time Wisconsin garden opionion leaders, however, kept recommending native plants for the garden.
Somerville writes in her book that in the publications of the Wisconsin State Horticultural Society "The use of native plants was first suggested in the 1850s as an easy and economical way to improve the look of Wisconsin home grounds."
In the early 1900s the movement called the midwest Prairie style of landscape design, launched in the midwest by designers Jens Jensen, O. C. Simonds, and Wilhelm Miller, encouraged the use of native plants in the home landscape.
Certainly Wisconsin gardeners knew about this new midwest style of gardening, particularly through the work of WSHS in its articles and lectures.
Somerville says, "In general the varieties of plants in the Wisconsin vernacular garden changed less than did the patterns in which they were planted [from beds to borders]. The exception is in the marked increase of native shrubs and plants after 1900."
The book's listing of native perennials, popular in Wisconsin gardens in 1915, includes the columbine, Aquilegia canadensis. [below]  This plant is still worthwhile in the garden.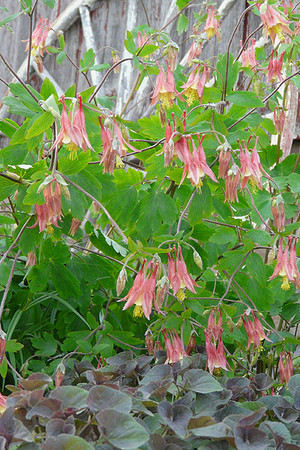 Native plants have traveled a rocky road in American garden history. It is good to see this early emphasis on native plants for Wisconsin gardens.