Early Twentieth Century Formal Garden in Maine
Though I have known about Historic New England properties in Maine for a long time, yesterday I decided  to visit one of the gardens.
I drove to South Berwick, Maine on Route 236 to spend the afternoon at the Hamilton House, built in 1785.  The house, surrounded by lawn on all four sides,  stands above  the Piscataqua River, creating that perfect restful feel for a summer day.  The extensive lawn that sweeps over the highs and lows of the property blends into the gardens and the woodland areas as well.
This property's garden still stands today as an early twentieth century American garden of a more formal design.
Mrs. George Tyson and her stepdaughter Elizabeth purchased the Hamilton House in 1898 as a summer home.  They designed the garden in a formal design, adding a bit of Italian flair as well that followed a trip they took to Italy.
The formality comes across in the straight line from the front door of the house through the garden and the cutting garden as well which leads to the cozy artist's cottage with shingle siding.
The spiraea, lilacs, and irises were in bloom. You could see the rows of peonies, anxious to pop open at any moment.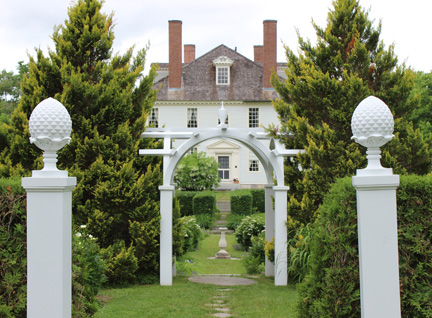 The garden included a fountain to the side.
It was the formal design that attracted me because at that time there was a resurgence of formal garden design on the east coast, including the gardens of Cornish, New Hampshire.
Colonial revivalism influenced American gardening at that time as well.
The drive to Hamilton House passed quickly, making my visit even more enjoyable.
Yankee magazine just named Hamilton House "Best Historic House and Garden"  for 2014.  Well deserved.