Early 19th Century Farm Journal Fostered Garden Writers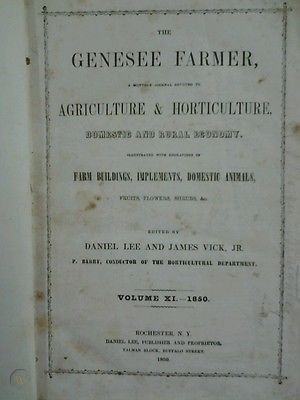 We can learn a great deal about gardening by looking at garden magazines.
At the begining of the nineteenth century there was more interest and energy put into farming than cultivating a garden.
Nineteenth century garden writers sometimes began their writing career in a farm journal where horticulture played but a minor role.
This was a new country and people had to eat. Supplying food to feed the country took center stage.
The Genesee Farmer [below] from Rochester, New York was a publication, begun in 1831, directed at farmers, but also included a section on gardening.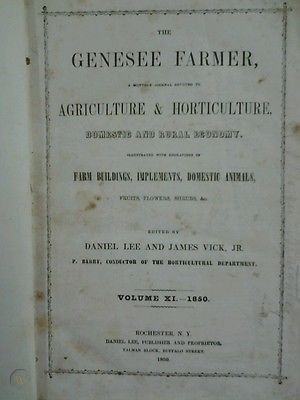 The goal of the magazine was to keep the farmer informed of the newest methods and machinery necessary for farming.
Farming was serious business. The farmer had to keep up with the latest, especially how he could get the most for his crops. The Genesee Farmer filled that role.
Patrick Barry, co-owner of the early Rochester nursery Ellwanger and Barry, was both a great writer and knowledgable about plants, especially fruit trees. He wrote an important book on fruit trees, simply called Fruit Garden.
His section called 'Horticulture' in the Genesee Farmer addressed new plants, pests, fertilizer, pruning – all the topics a gardener needed to know.
Vick on Writing
Seed company owner James Vick (1818-1882) was associated with the paper as a writer and editor from 1849 to 1855 when he became owner and publisher as well.
Vick brought his own editorial style to the publication.
Harriett Julia Taylor wrote an article called "Rochester's Agricultural Press" for the Rochester Historial Society Publication.
She wrote, "While James Vick was editor of the Farmer, the circulation mounted rapidly and the paper assumed a more elegant air than it had ever known."
A year later, in order to devote his entire time to the seed business he was beginning, Vick sold the magazine to Joseph Harris.
Vick then started his own publication called Rural Annual and Horticultural Directory, the first part of which was a sort of glorified seed catalog and the second part a list of nursery owners.
Vick would go on to start his own successful monthly magazine Vick's Illustrated Monthly in 1878.
Vick's career as a writer, editor, and publisher owed a great deal to Genesee Farmer, the early farm magazine.
Even though the emphasis was on farming, Vick found it also gave him the opportunity to learn about the publishing business so that one day he could devote himself to the business of writing about the garden and its flowers.
A farmers' journal gave both Barry and Vick the start to an illustrious garden writing career of many years.