Dahlia Mania Struck Early Nineteenth Century
Dahlia mania struck early nineteenth century.
This week I will plant dahlia tubers in my garden.
First I will have to unpack and inspect each of the tubers still stored in my basement.
The dahlia happens to be my favorite flower because it provides such wonderful autumn color in the garden. 
At one point gardeners loved this plant so much that there was a frenzy created for the latest hybrid. The craziness over this plant was called 'dahlia mania' and it took place in the 1830s both in England and America.
Communication scholar Hugh Dalziel Duncan writes in his book Communication and Social Order, "A style of dress or a taste in furnishings, so affect people that we use the word 'rage', in the sense of mania, to define their sudden and overwhelming power."
Duncan implies that a material object like clothing or furniture could create a 'rage' in a particular time and place.
Well, that happened with the dahlia that first arrived in Spain from Mexico in the 1600s. It was not until the late 1700s that the plant appeared in English gardens.
English botanical artist Margaret Meen painted this bouquet of dahlias in 1789. [below]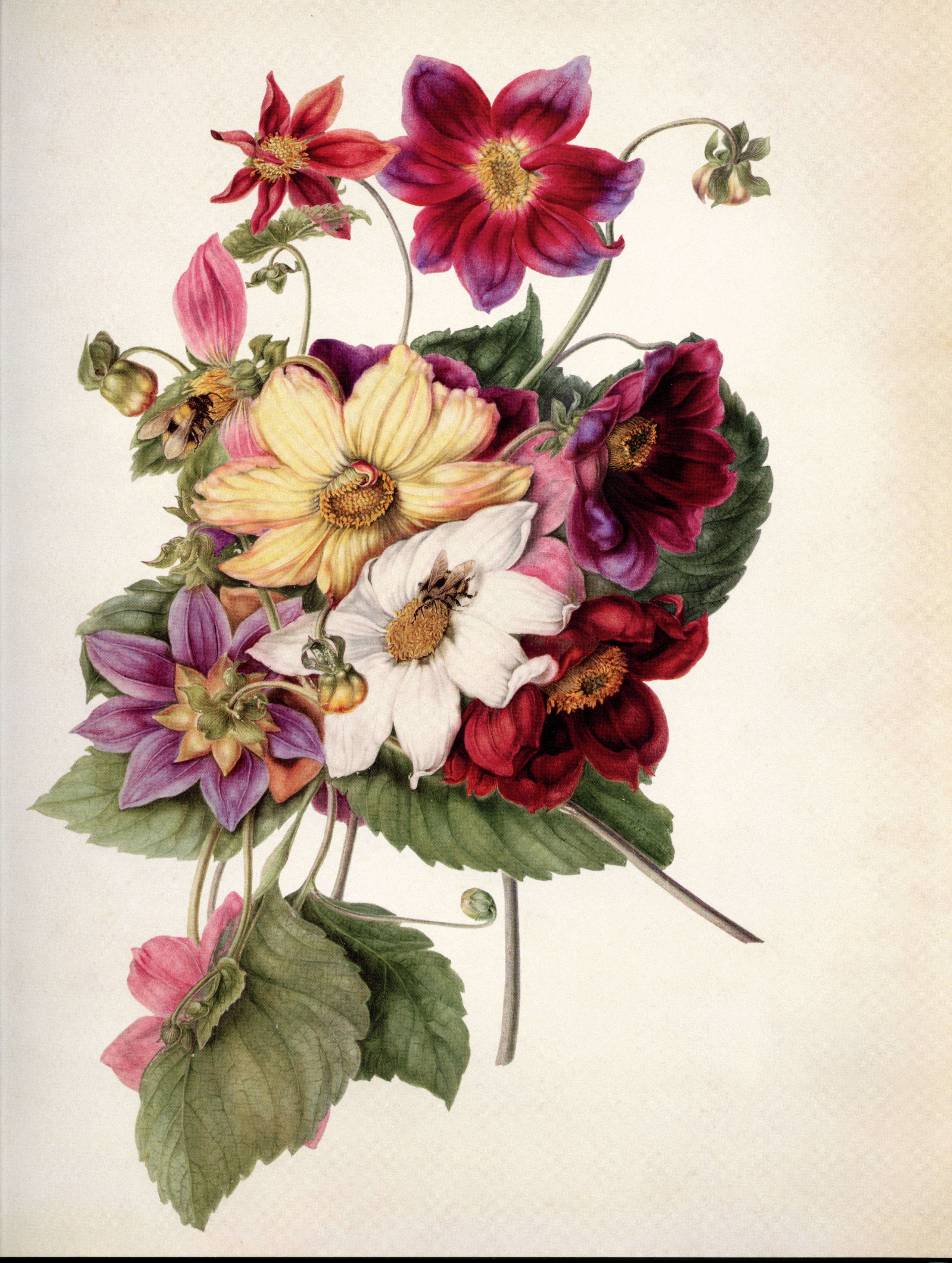 The garden interest in the plant however did not take off for a couple of decades.
It was not until after 1804 when Lady Holland re-introduced the dahlia in her garden at Holland House in Kensington, near London, that dahlias became the rage.
A dahlia flower produced many seeds, from which new hydrids could develope.
That is what the dahlia is famous for to this very day: producing many hybrids. 
In 1834 English garden writer and horticulturist John Claudius Loudon, called the 'Father of the English Garden,' wrote about the many dahlia varieties already on the market.
He said  "At almost every nursery several hundred sorts [of dahlias] may be procured; but as new sorts are continually coming into fashion, and the old sorts becoming neglected, it would be of little use presenting a list of varieties." 
Just a few years later Loudon also wrote about dahlia mania in The Gardener's Magazine.
He said, "The culture of the dahlia, though it has not attained so extravagant a pitch in England as that to which the tulip is said to have arrived in Holland, is yet now engaged in, in Britain, by a much greater number of persons than ever were possessed by the tulip mania."
Loudon thus recognized a mania for the newest dahlia even greater than the past rage for tulips.