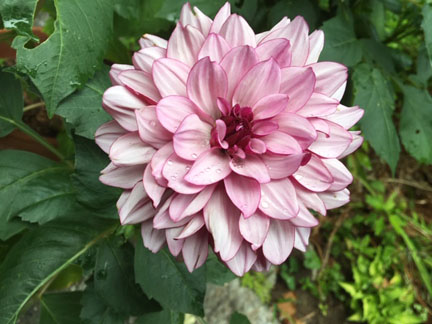 We all love some flowers in the garden more than others.
That is the case with dahlias and me.
I love dahlias.
Here is 'Creme de Casis' which I grew this summer in a container along the driveway. [below]
It was the first time I planted this variety.
History of Dahlias
The dahlia first came from Mexico to Spain in the sixteenth century.
The Spanish priest, artist, and scientist Antonio Jose Cavanilles (1745-1808) served on the staff of the Royal Botanic Garden in Madrid.
He drew illustrations of the dahlia in the late 1700s.
At about the same time the dahlia began to appear in England, France, Italy, and Germany.
From the early 1800s the dahlia had become a garden staple.
American gardeners enjoyed their first dahlias by the 1830s.
Even though it went through both periods of intense desire for the latest variety as well as disgust in just hearing its name, the dahlia is still around today.
Perfect Late Summer Flower
What I like most about this flower, besides its shape and endless variety of colors, is that it blooms in late summer until almost Thanksgiving here in the Northeast.
They begin in early August and continue til November.
James Vick on Dahlias
Rochester, New York seed company owner James Vick (1814-1882) grew hundreds of dahlias in his display gardens.
You would have found his field of dahlias about five miles north of the Rochester city limits. [below]
Once the editor of the Illustrated Christian Weekly visited Vick's dahlia field and wrote an article about his visit.
The editor's article appeared in Vick's Illustrated Monthly of September 1879.
He wrote, "Mr. James Vick, of Rochester, N. Y., was the pioneer in the systematic growing of flower seeds, and without doubt the most extensive grower in America."
That was quite the praise for Mr. Vick at a time when the seed and nursery business was growing around the country.
Then the editor raved about the blooms of the many dahlias he saw in the rows devoted to this flower at Vick's seed farm.
He said, "Perhaps the largest field devoted entirely to one kind of flowers, at the time of our visit, was one filled with Dahlias, and containing six or more acres. It was supposed to include every variety known of real merit, and the display was gorgeous."
What a sight that must have been – to see six acres of nothing but dahlias.