Chrysanthemum, Long a Favorite in Shows
Why is it that right now you see chrysanthemums for sale everywhere?
The colors are pretty steady. Yellow, orange, white, red, and purple, sometimes with combinations in the colors, seem to dominate.
The chrysanthemum has been part of our flower palette since the early nineteenth century.
Garden historian Judith M. Taylor devotes many pages to the chrysanthemum in her book An Abundance of Flowers: More Great Flower Breeders of the Past.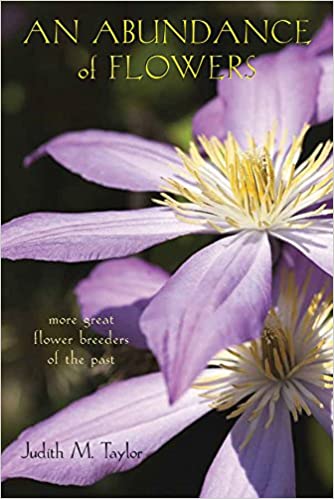 She writes about nineteenth century plant hybridizers.
She says, "Wealthy men of leisure as well as nurserymen devoted their lives to growing and breeding chrysanthemums."
And of course many had to display their chrysanthemums in a flower show.
Nineteenth Century Flower Shows
Both in America and abroad It was common in the nineteenth century to hold exhibitions for certain flowers .
The chrysanthemum became the focus for many a show because of its beautiful flowers.
Taylor writes, "The first known hybrid chrysanthemum cultivar in the United States, 'William Penn', was exhibited by Robert Kilvington of Philadelphia at the annual meeting of the Pennsylvania Horticultural Society in 1841."
Nineteenth century New York seed company owner James Vick (1818-1882) wrote in 1880, "In England, lords and ladies, and members of Parliament, and gardeners and shop-keepers all vie with each other at chrysanthemum shows."
Vick included nineteen varieties of the chrysanthemum in his catalog.
Today
Today we see so many mums in all kinds of shops, including the grocery store and big box stores.
People see the chrysanthemum as that great answer to what would otherwise be a flower-less time of year.
Vick summed it up in these words: "The Chrysanthemum is the prettiest late autumn and early winter flower in existence. In November and December there is nothing that will make such a cheerful display."